Behind the Book
I was privileged to sit down with Michele Pyatt of Dance Again Ministries and talk about her experience with prison ministry, her heart for the hurting, and
Mercy's Song.
Michele was the first person I talked to when I needed an inside scoop on prison. Mercy's Song would dive deep into this world and I needed to know more. Not only did she share her vast experience working with prison ministry, but she also invited me to come along. The men I met- brothers in Christ, though behind bars- impacted me greatly. In this interview, Michele shares from her wealth of knowledge and asks me a few questions as well. I hope you enjoy.
Behind the Book
Pictures from my research on The Mercy Series.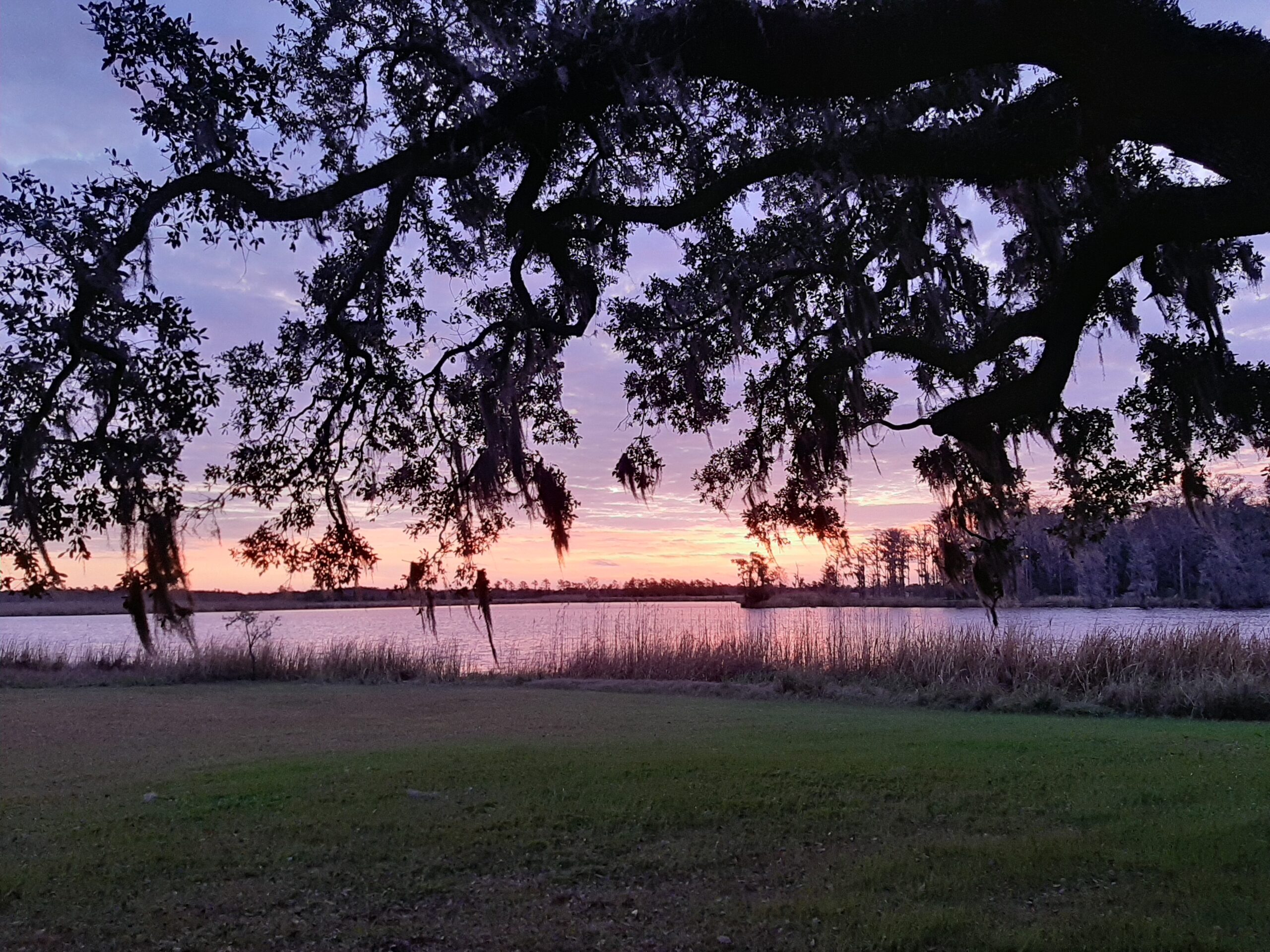 On my research trip to Georgetown, SC, my friend and I stayed at Mansfield Plantation. This was our view. Stunning beauty. I write historical fiction, but it really wasn't that long ago that enslaved men and women toiled in those rice fields day in and day out. This is where Mercy spent her childhood and where portions of Book 2 and 3 take place.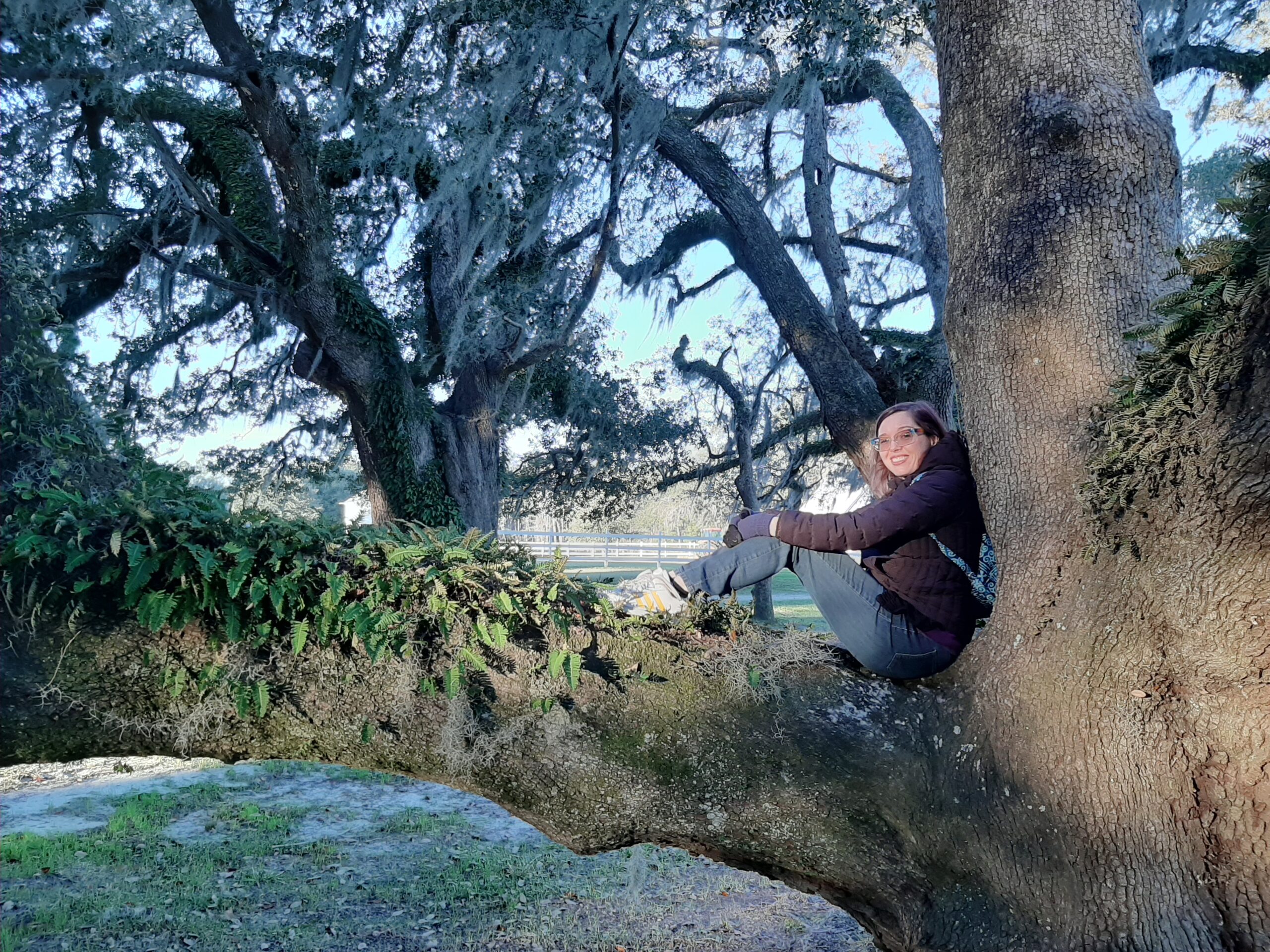 The magnificent live oaks of South Carolina have "resurrection fern" growing on them. The fern can look dead, but one rain shower can cause that fern to spring back to life. When our tour guide told us this, I just knew I had to use the analogy in Mercy's story. Look for it in book 2. 
Your content goes here. Edit or remove this text inline or in the module Content settings. You can also style every aspect of this content in the module Design settings and even apply custom CSS to this text in the module Advanced settings.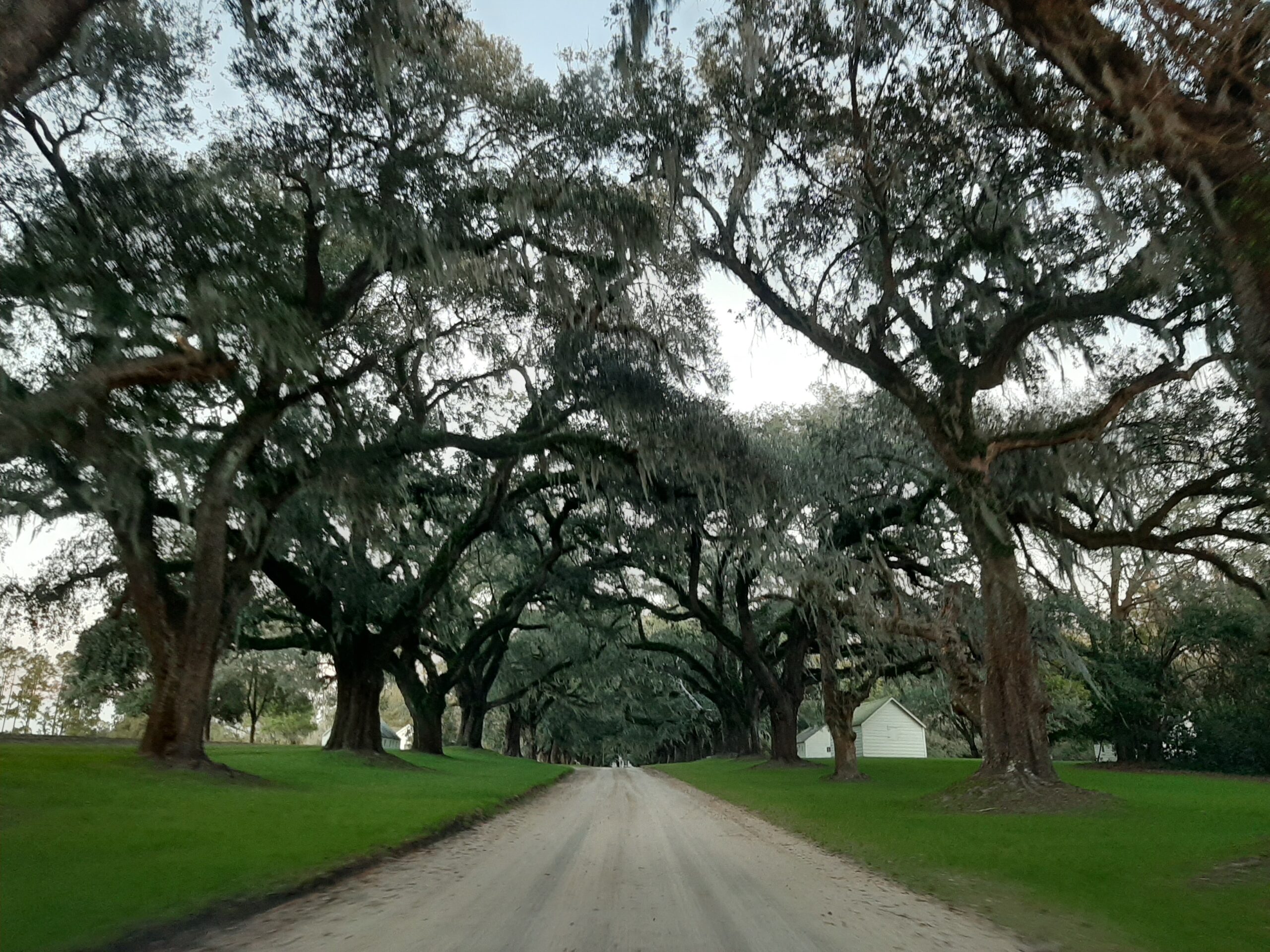 "Oak Alley" at Mansfield Plantation.  On most plantations, the cabins of the enslaved artisans were located closer to the "Big House" on what they called "The Street", while most of the fieldhands' cabins were located farther away in the thicket, out of view from the main house.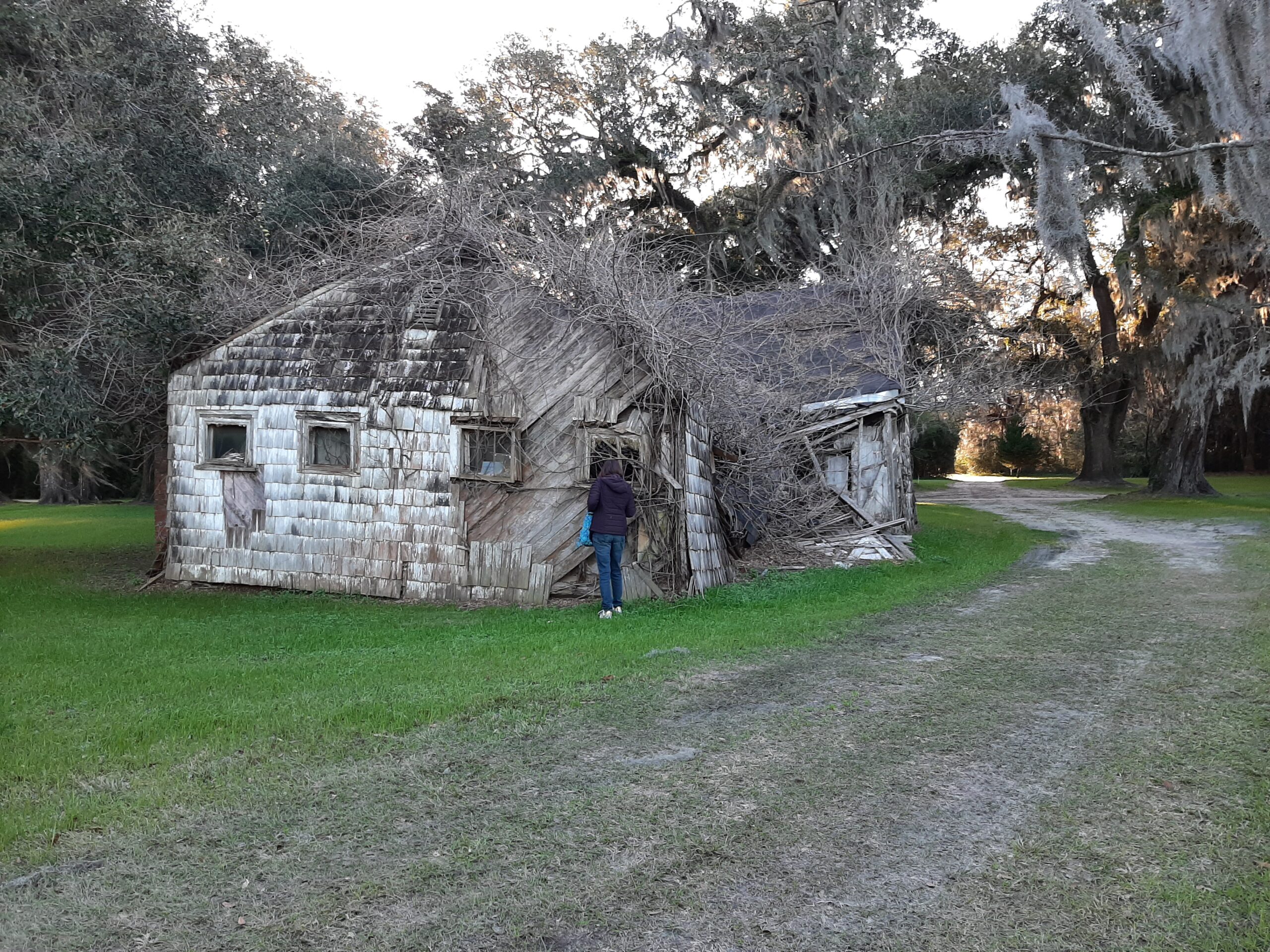 An original slave cabin that hasn't been restored.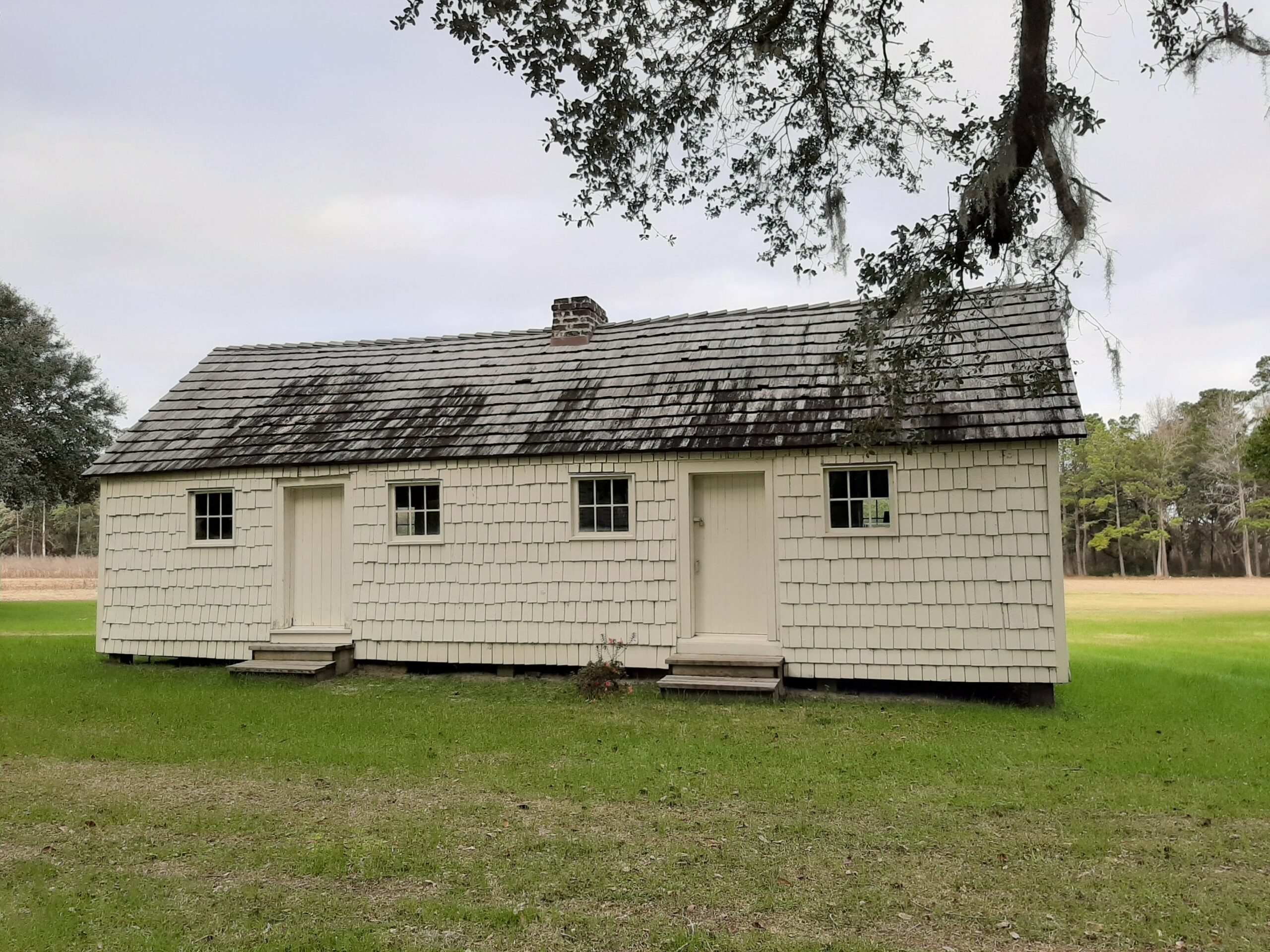 One of the restored slave cabins on the Mansfield Plantation. Mercy would have lived in a cabin much like this one.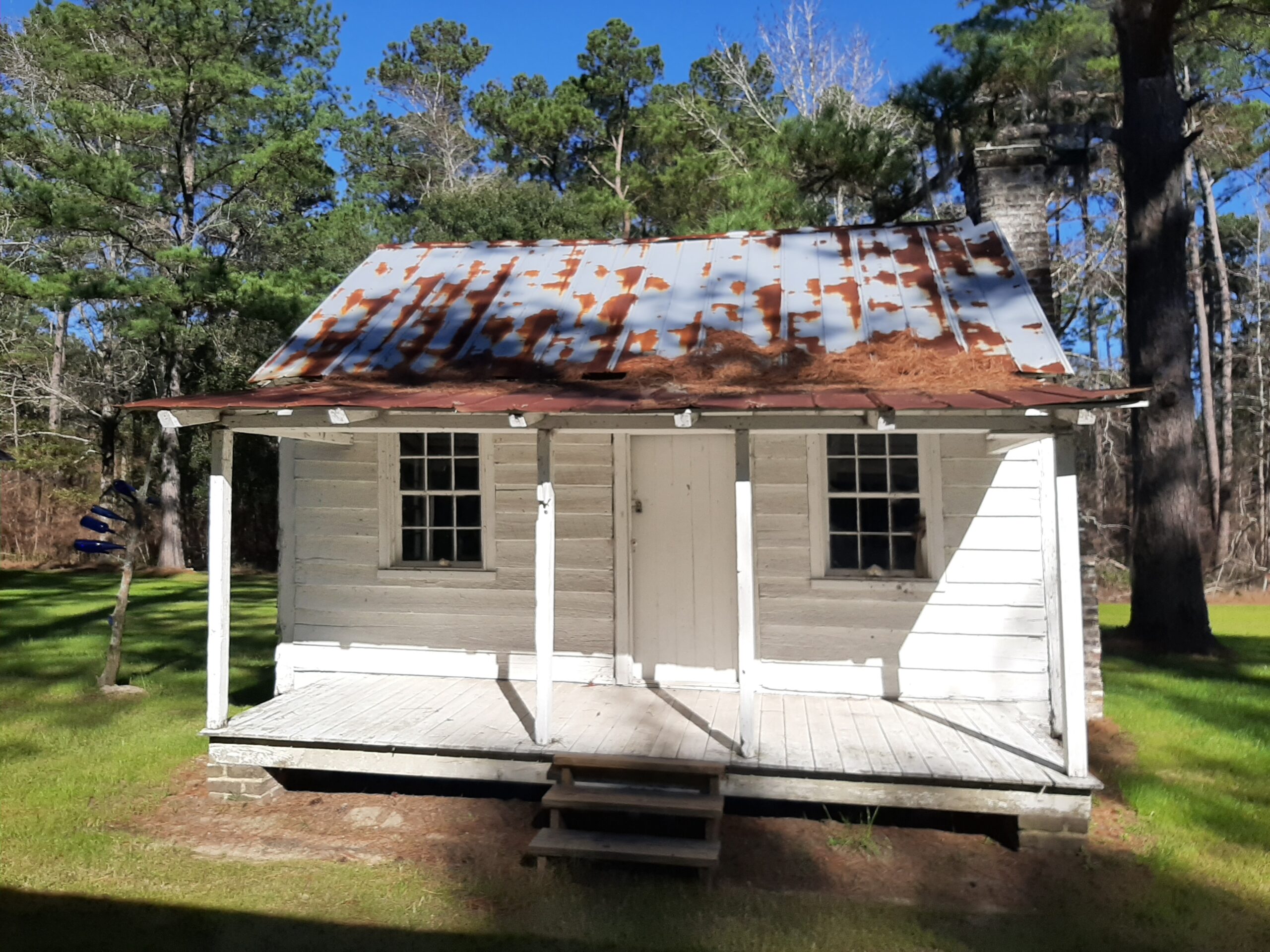 A different slave cabin from Habcow Barony.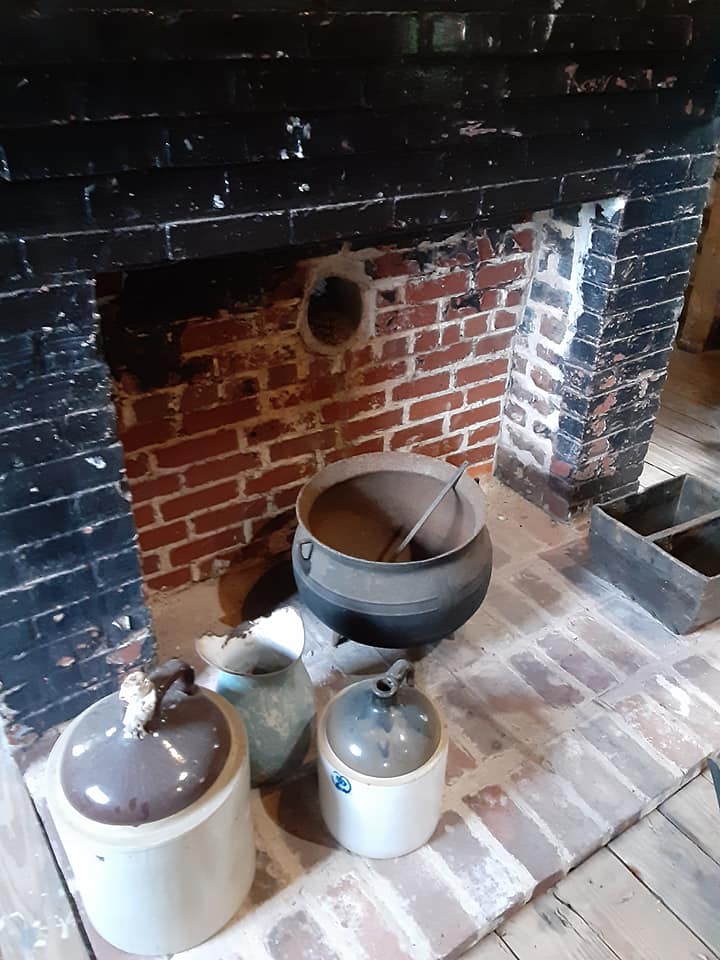 Enslaved people cooked in the fireplace which was located in the middle of the cabin.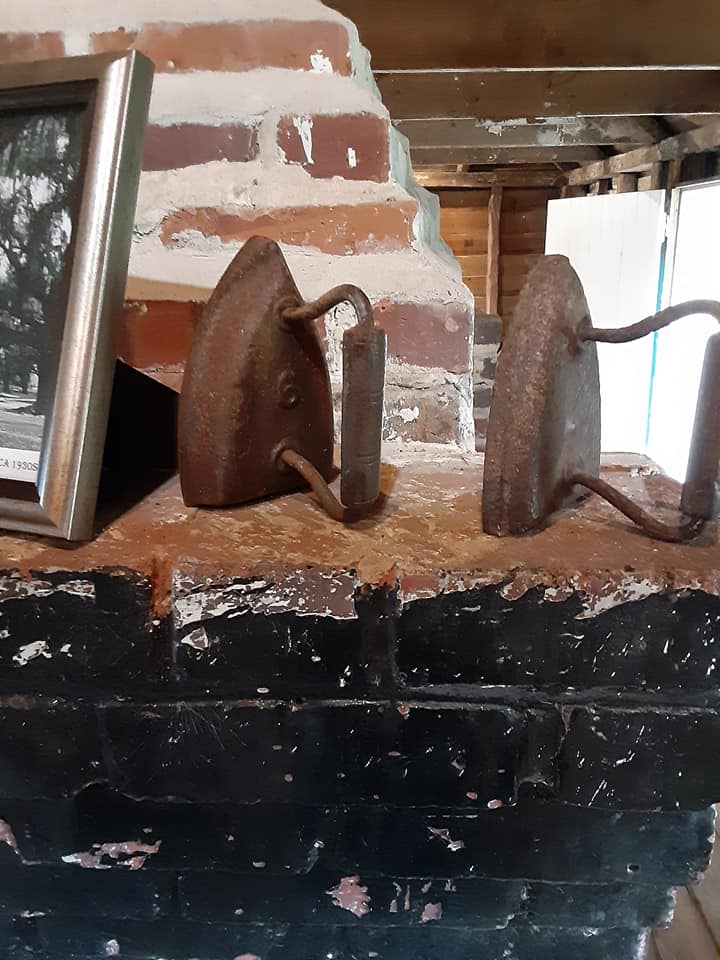 Ironing anyone? Enslaved people would heat these irons in the fireplace. It would be someone's job to iron clothes for the master and missus.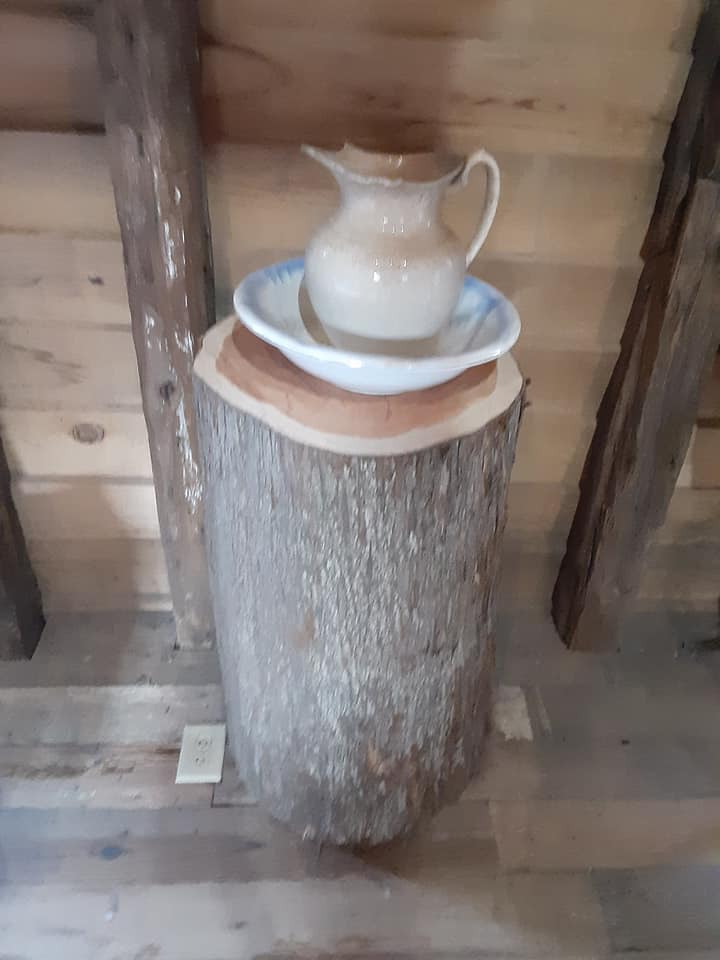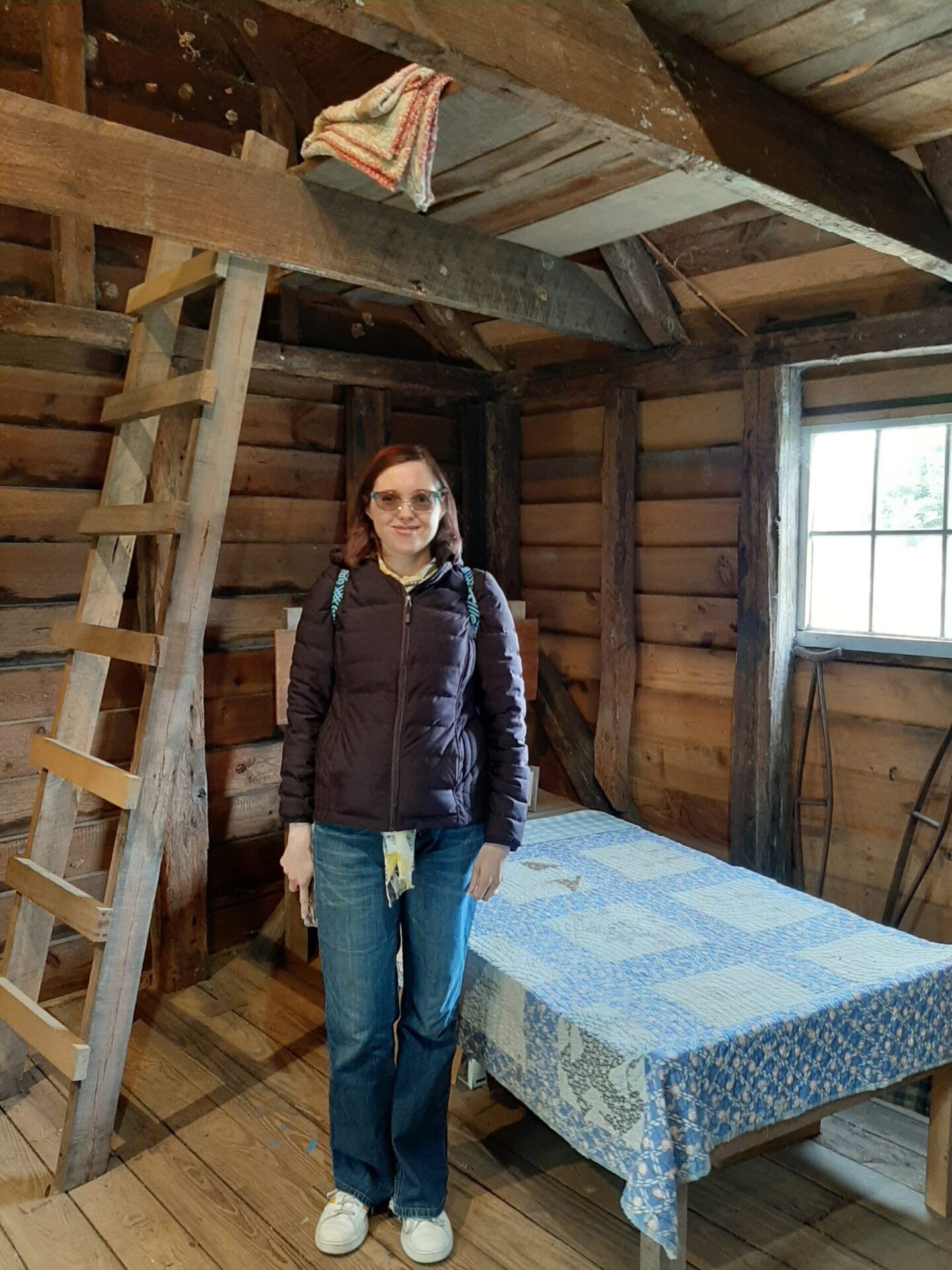 The inside of the slave cabin at Mansfield Plantation. The children would sleep in the rafters.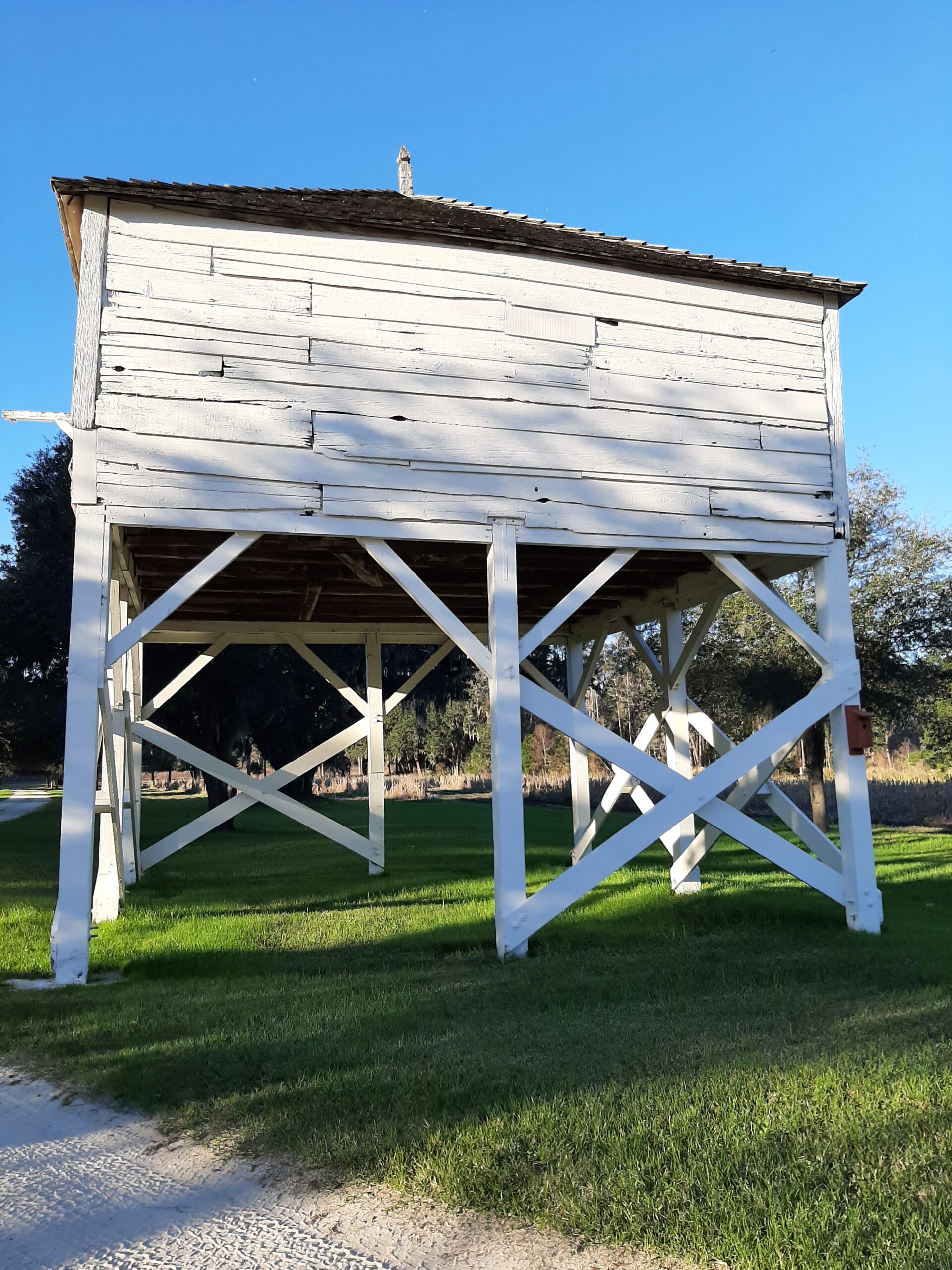 A winnowing barn. This is featured in book 2. They would take the rice stalks up to the platform and drop them through the hole. The chaff would blow off and the good rice would fall to the bottom.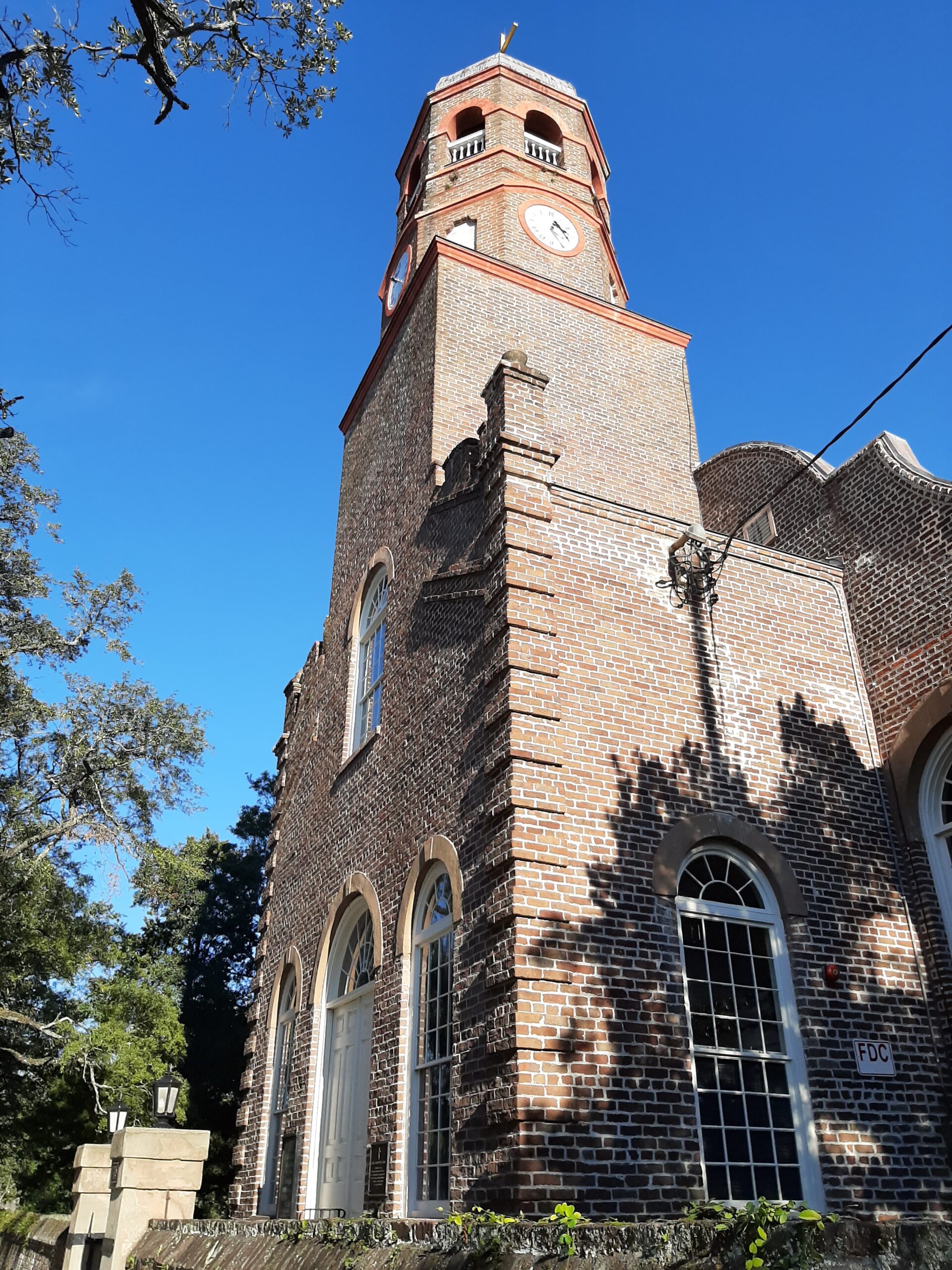 The historic Prince George Winyah Episcopal Church. Though the church mentioned in Mercy's Song is completely fictional, the construction and structure is loosely based on this church.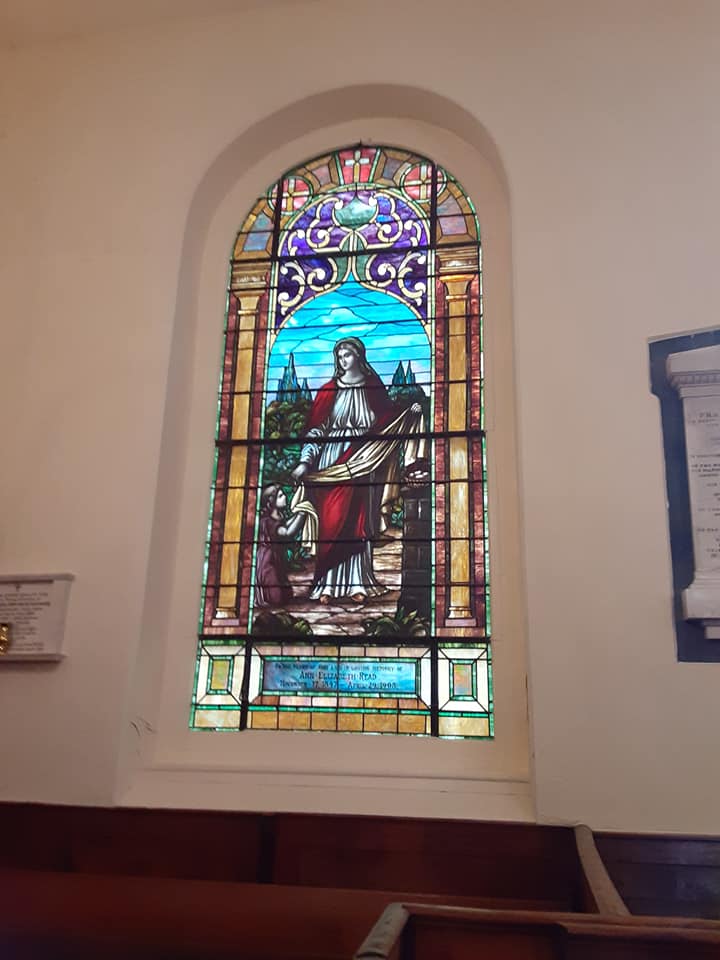 One of the stained glass windows at the historic Prince Winyah Church in Georgetown, SC.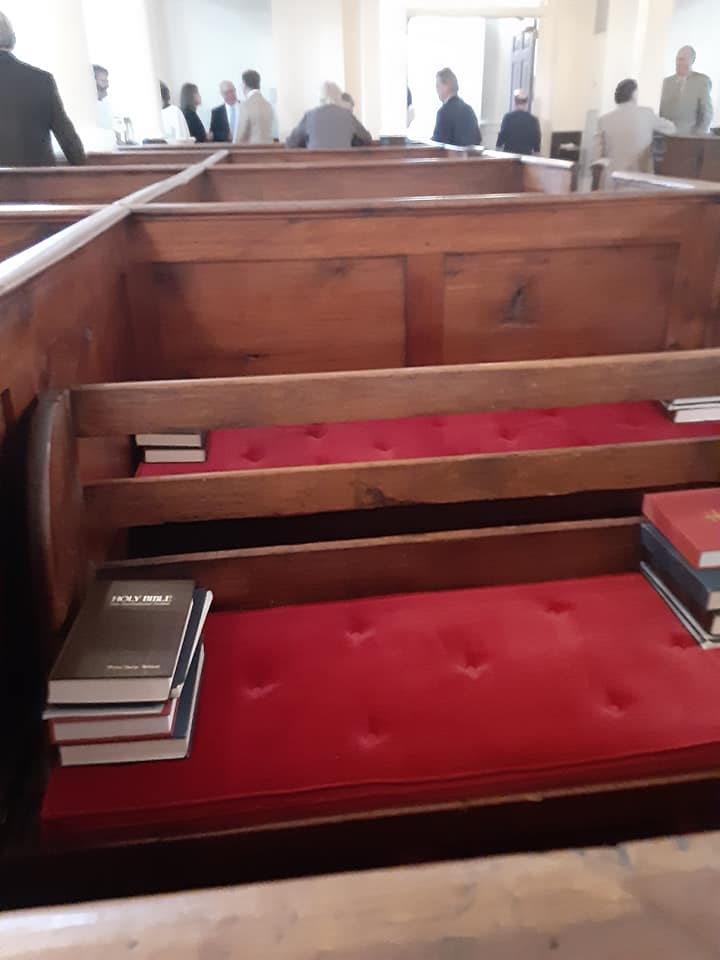 Box pews in this historic church kept the heat in. Featured in book 2.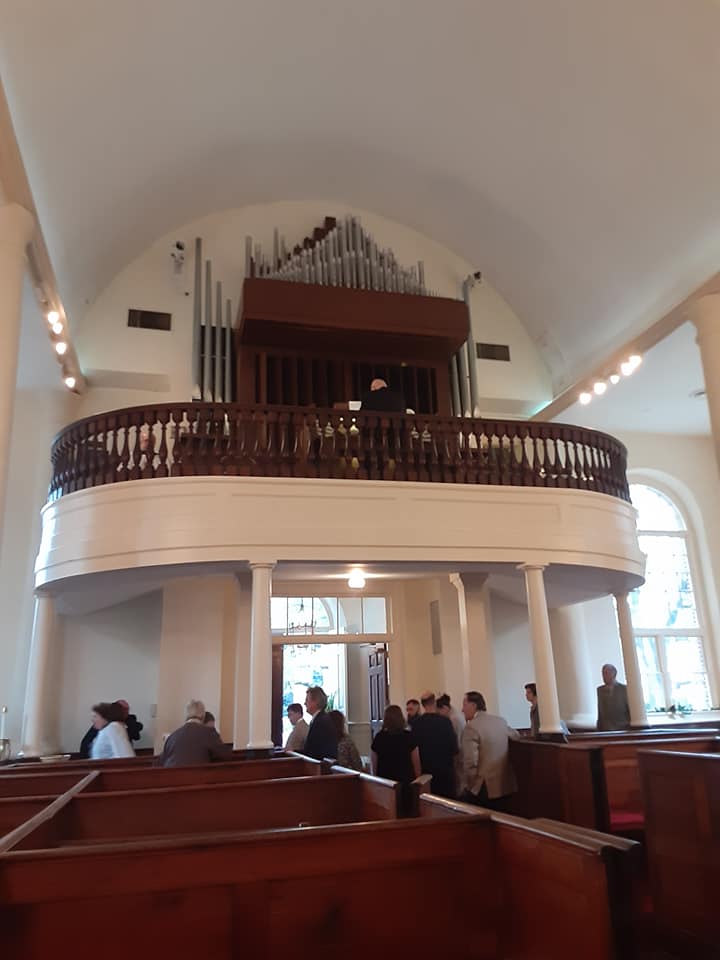 The gallery that now features the chior. This used to be where enslaved people sat during service. 
The historic Winyah Indigo Society building receives a brief mention in book 3.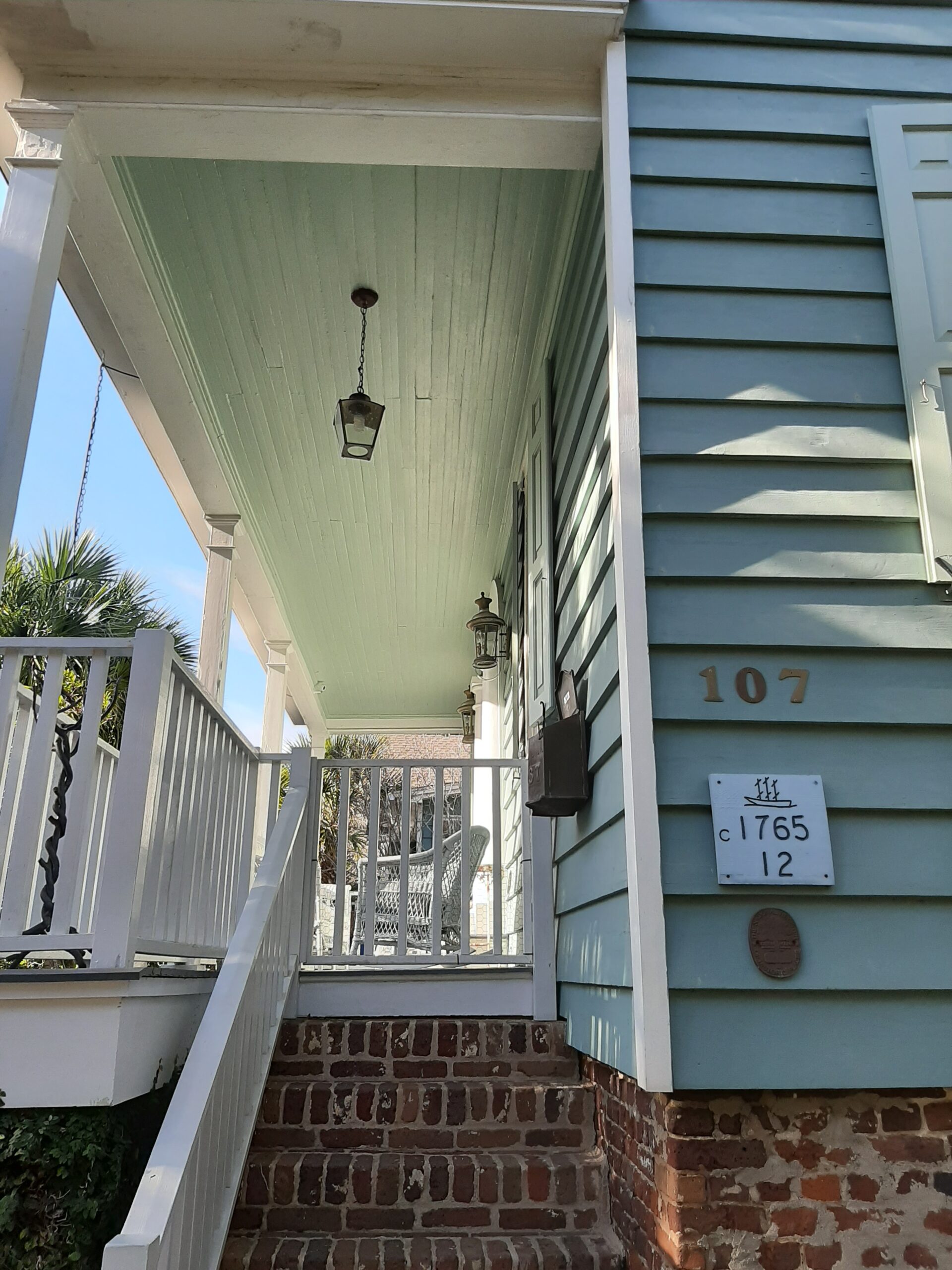 Can you tell the ceiling is painted blue? Yes, both the blue bottles and blue ceilings mentioned in book 2 are traditions passed down by formerly enslaved people that are still going strong in Georgetown. They're said to keep evil spirits away.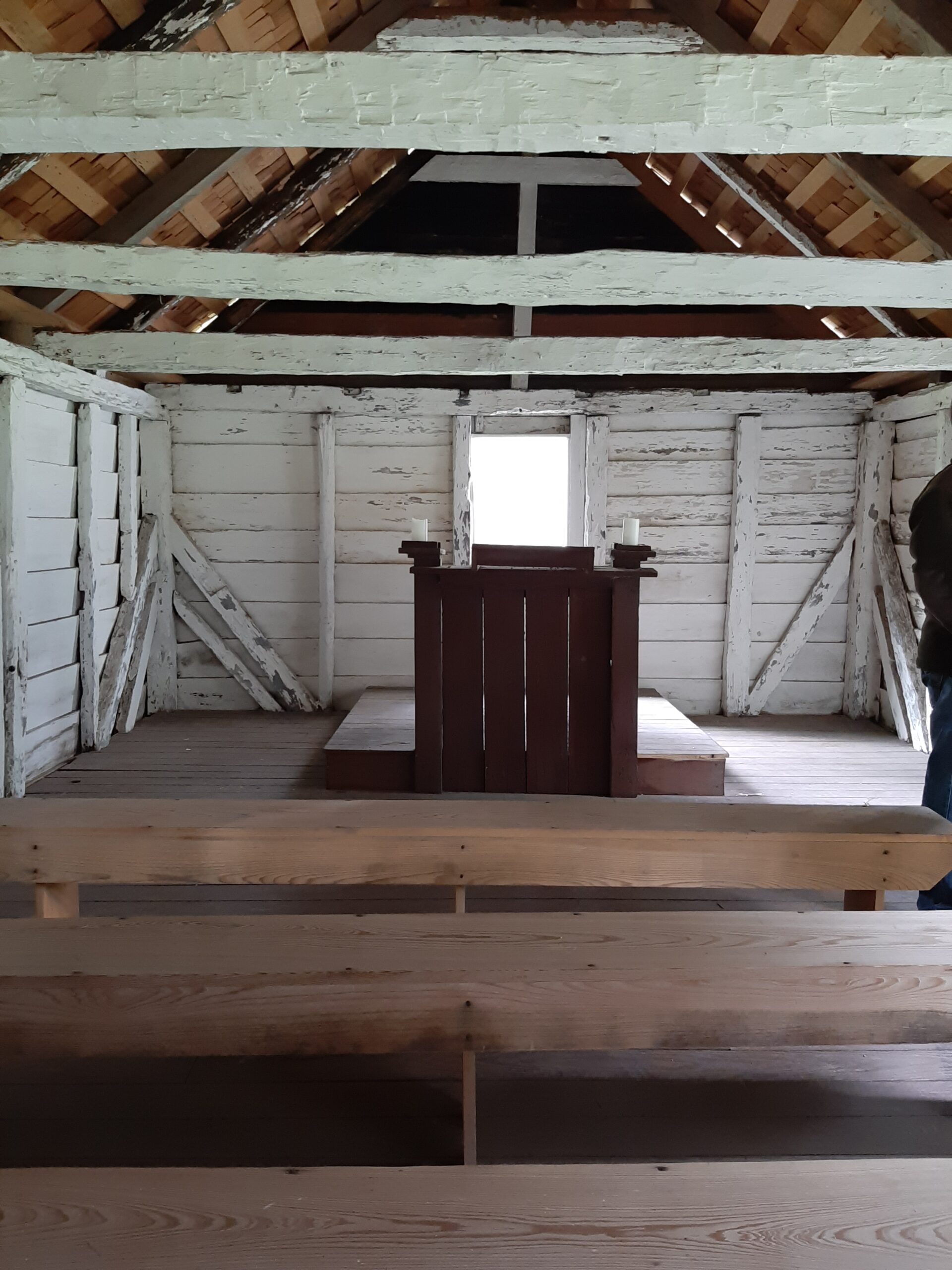 Inside the slave chapel on Mansfield Plantation. Mentioned in book 2, featured in book 3. This picture leaves me in awe. How many prayers were prayed here?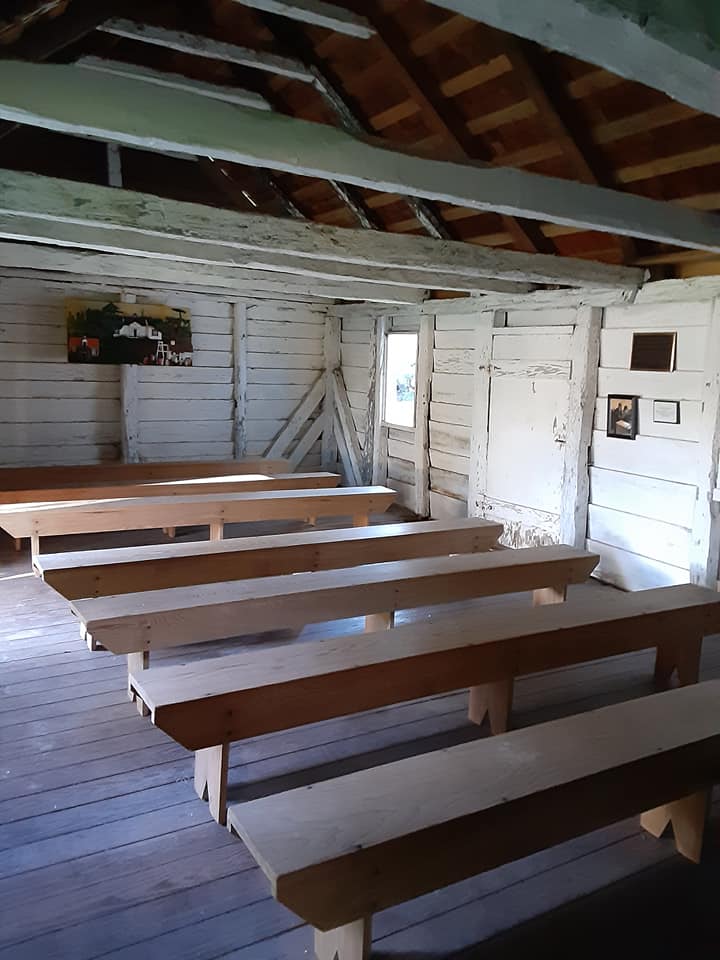 The pews inside the slave chapel. Who sat in this place? What prayers did they pray? What songs did they sing? What stories could they tell?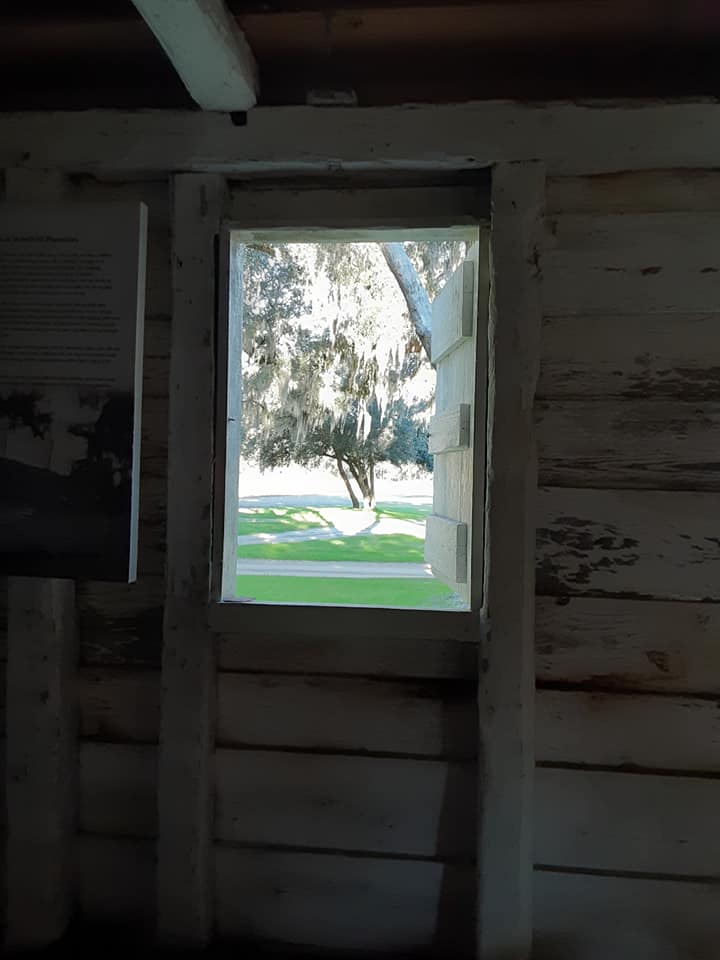 The windows in the chapel swung open to let in the breeze.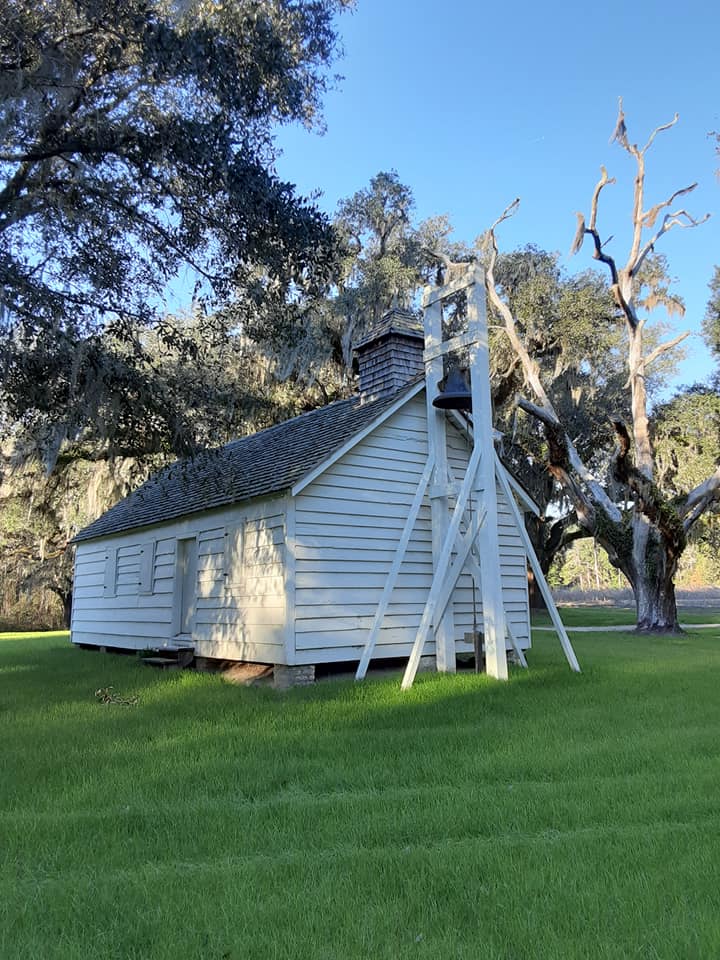 The outside of the chapel with its bell. Let freedom ring.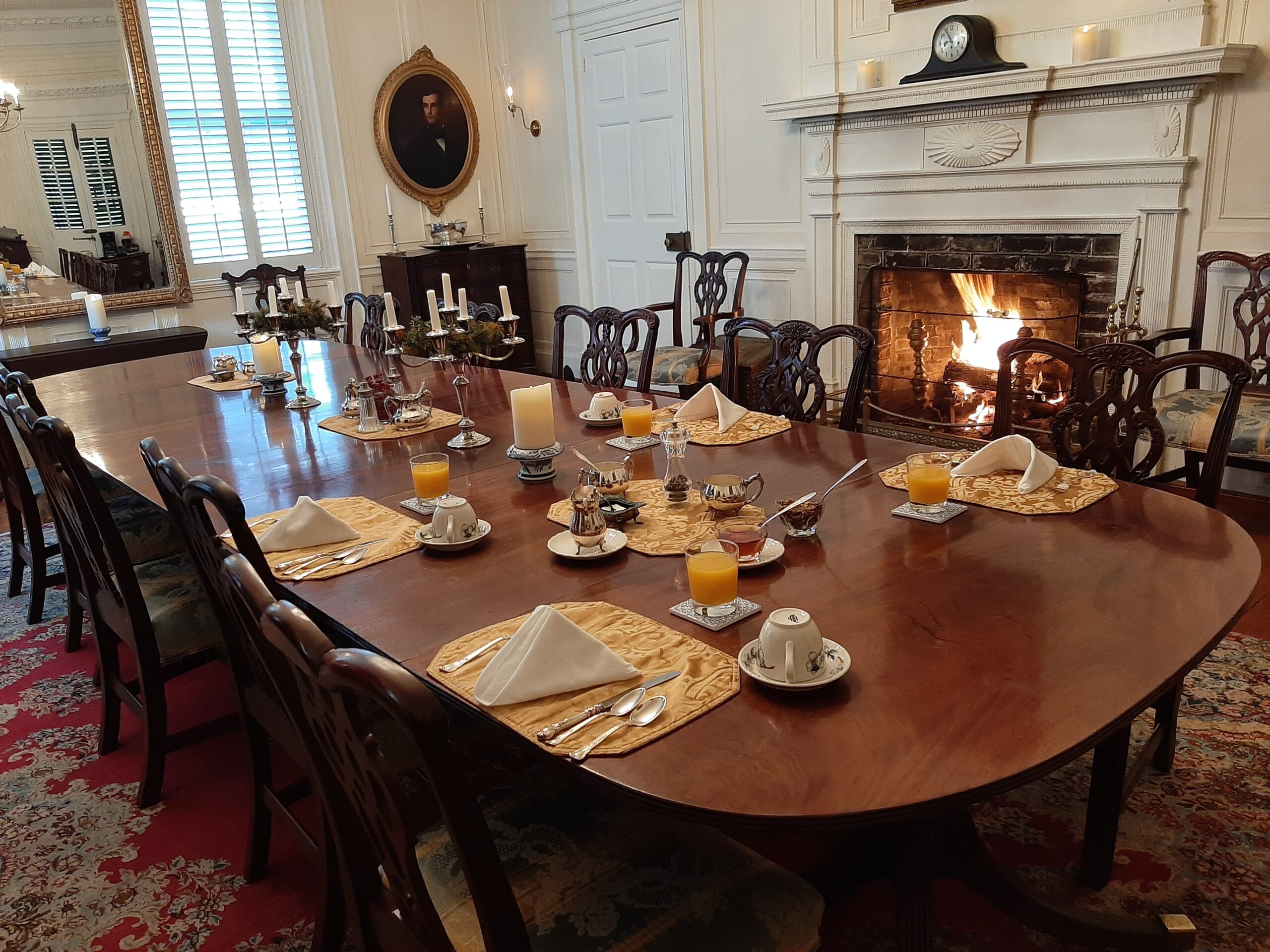 A glimpse inside the "Big House". At Mansfield Plantation.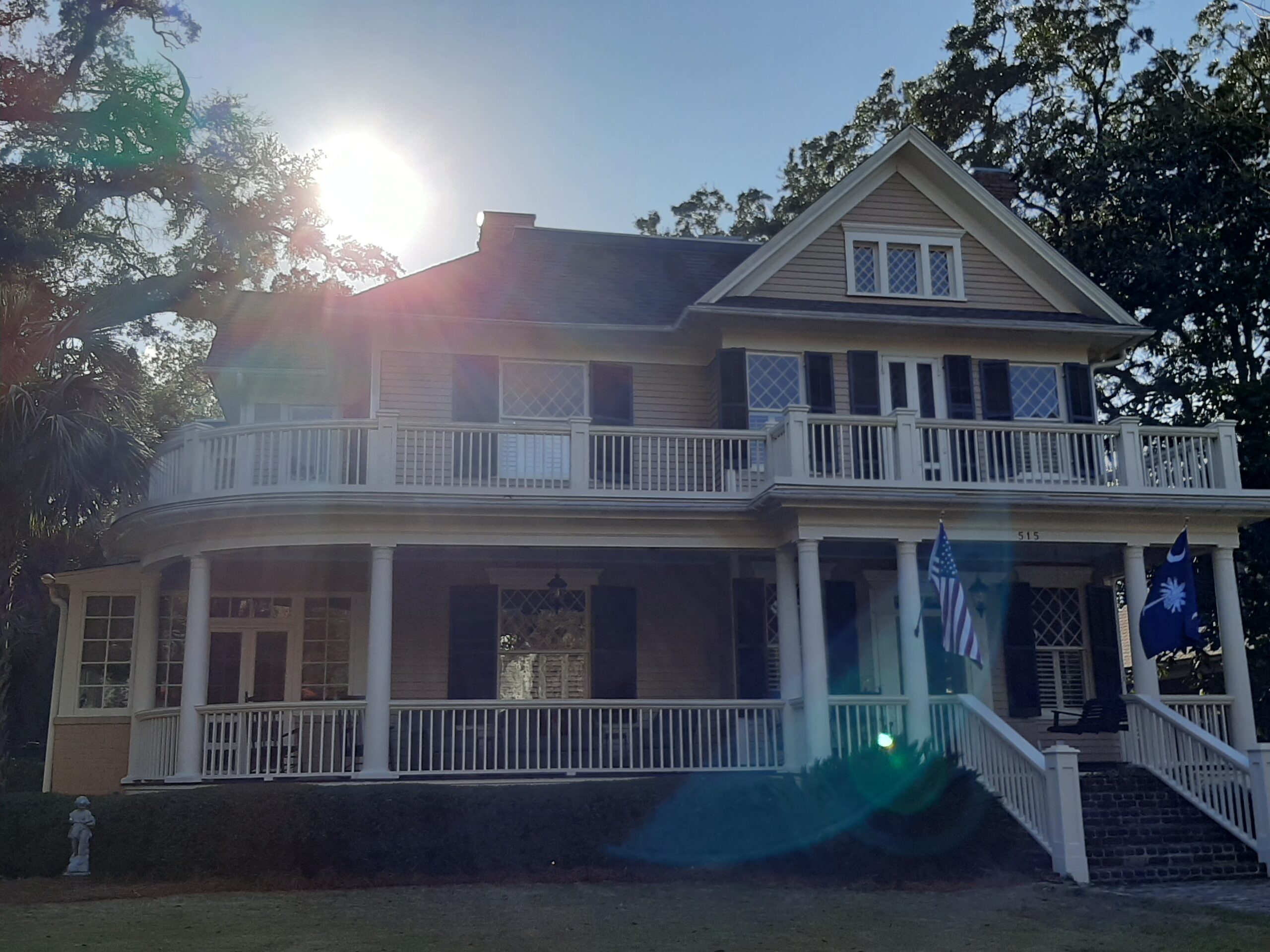 Many of the houses in downtown Georgetown have at least one wrap-around porch. Some, like this one, sport two of them. Susan's house in book 2 has two wrap-around porches.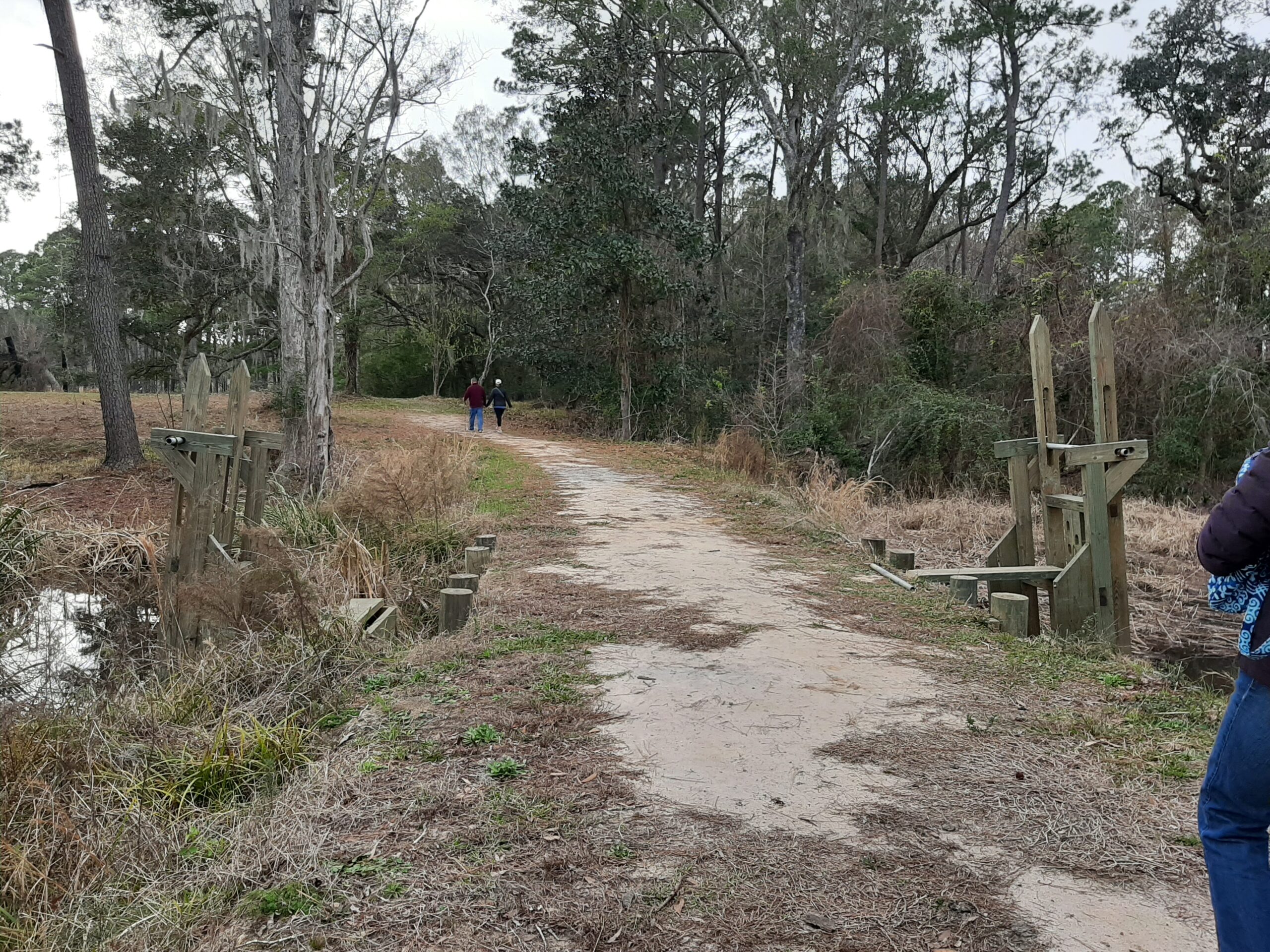 A trunk dock. They used these to let the water in and out of the fields depending on what was needed during that phase of cultivating rice. Truck minders controlled the trunk docks. It was a respected position among the enslaved as you had to be skilled to do it well. Jonah from book 2 is a trunk minder.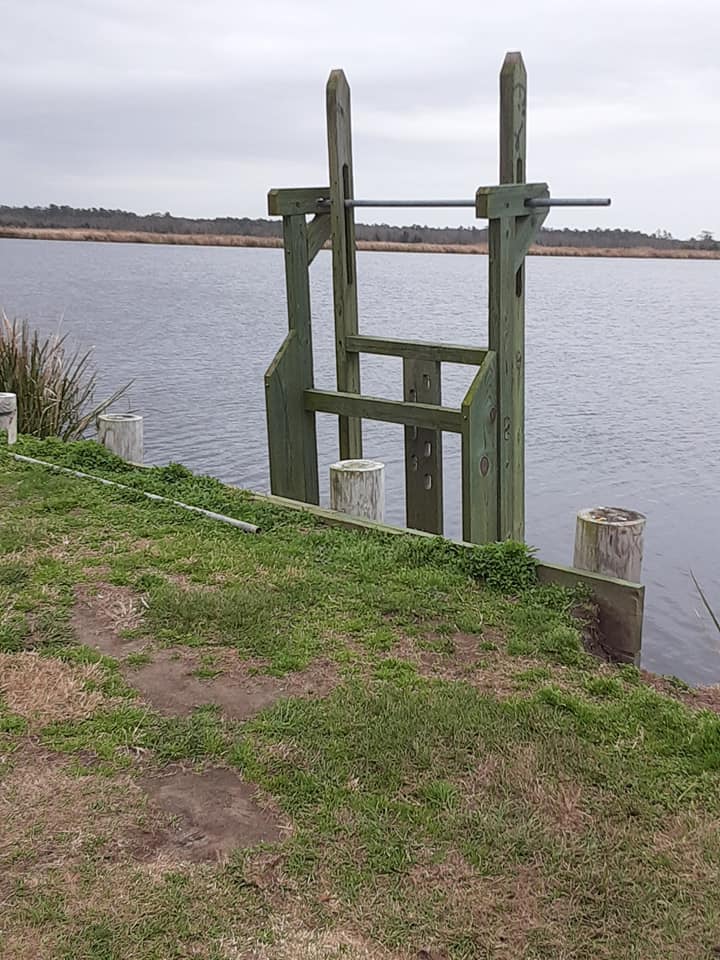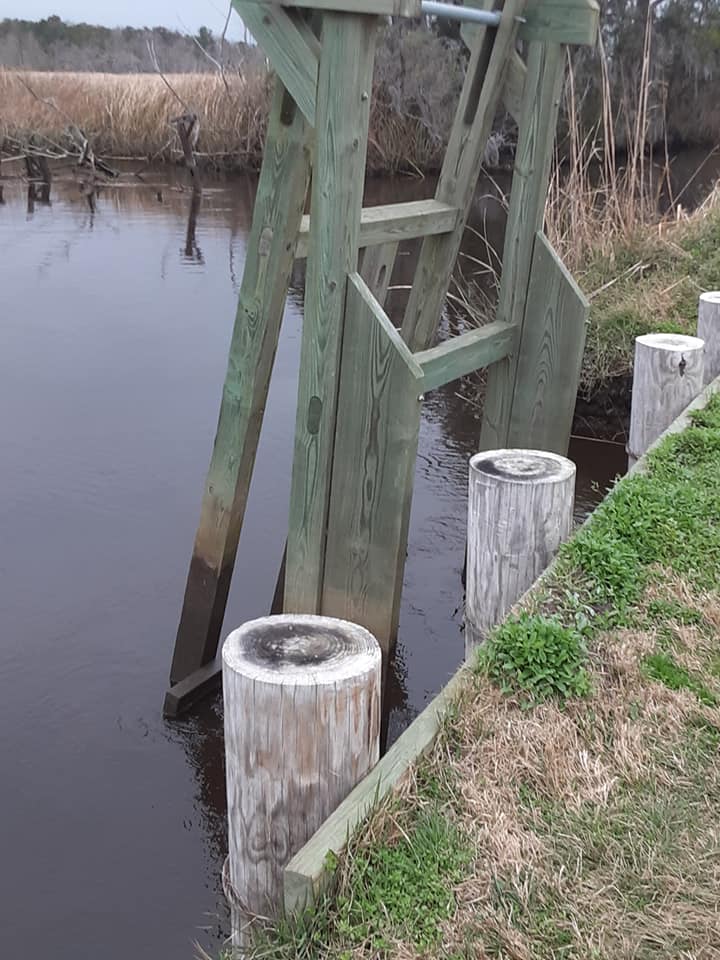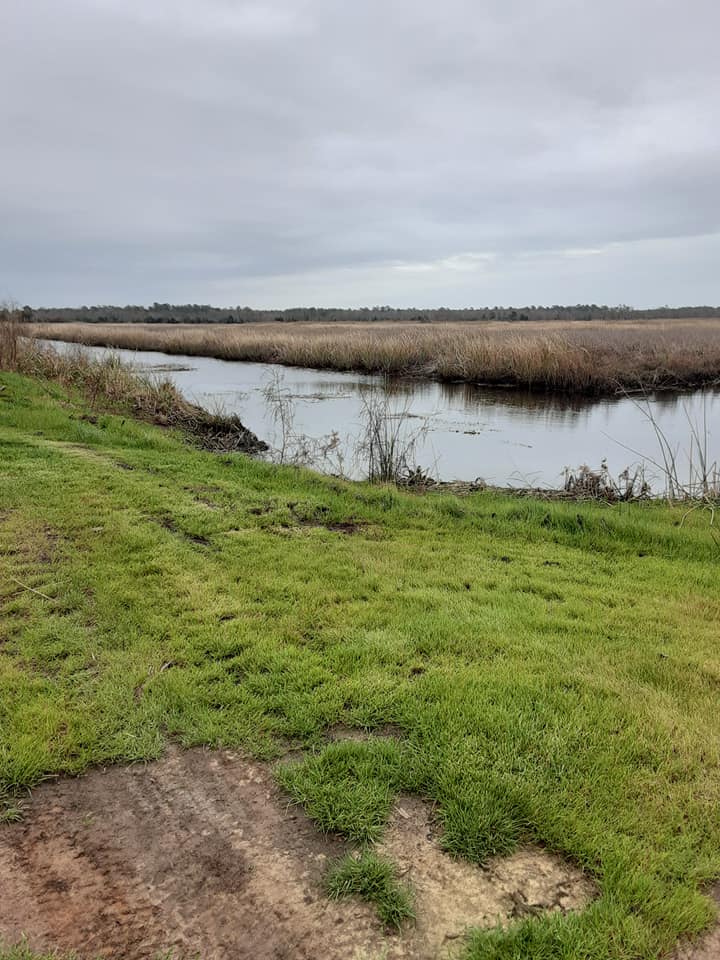 Rice fields were named things like Big Bear or Little Bird and separated by ditches. 
The graveyard adjacent to Prince Winyah Church. Mercy's Song (book 2) contrasts a graveyard like this with the slave graveyard on the plantation.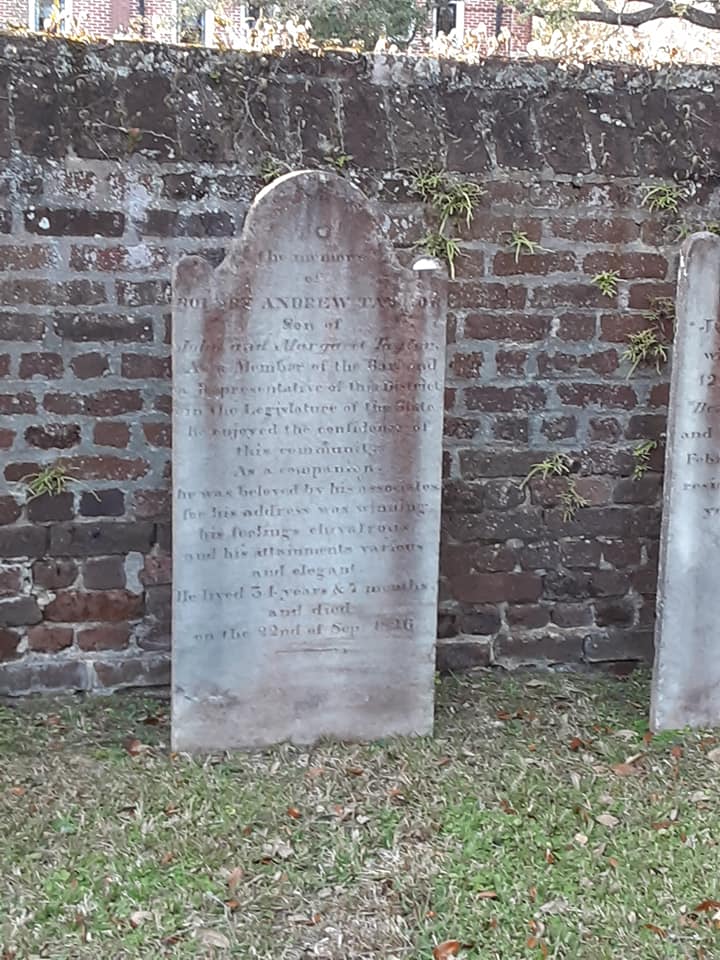 Headstones with names, birth and death dates were a luxury offered mostly only to whites. Very few enslaved people even knew their birthdate.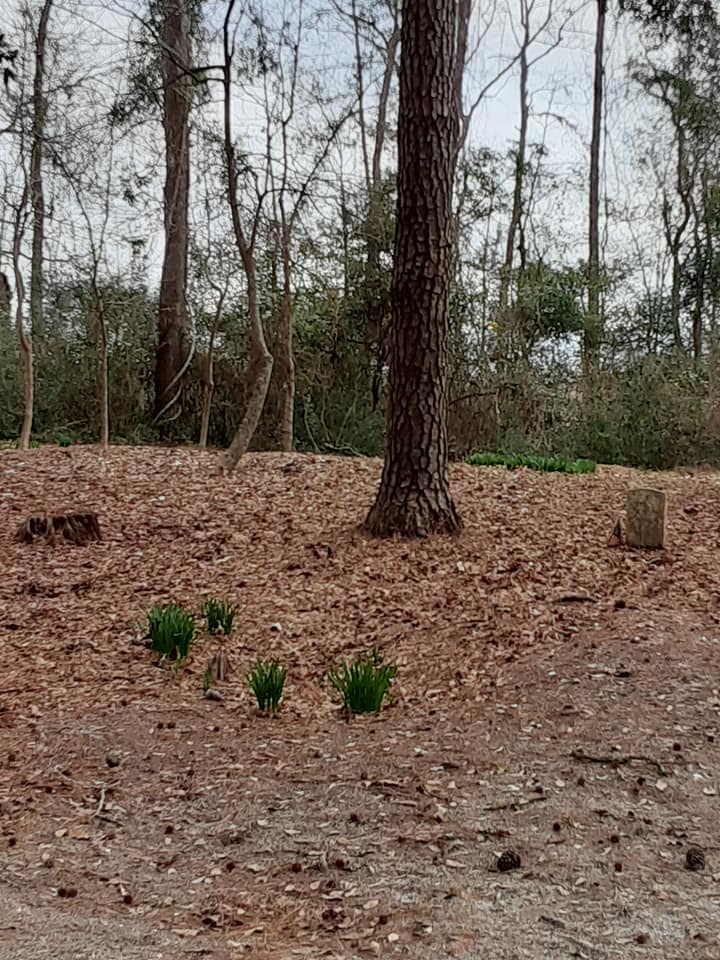 The graveyard of the enslaved on the Mansfield Plantation. Very few markers. Mostly lilies planted to mark the passing of loved ones. They wanted to be buried by the river so their souls could be carried back to Africa.  Featured in book 2.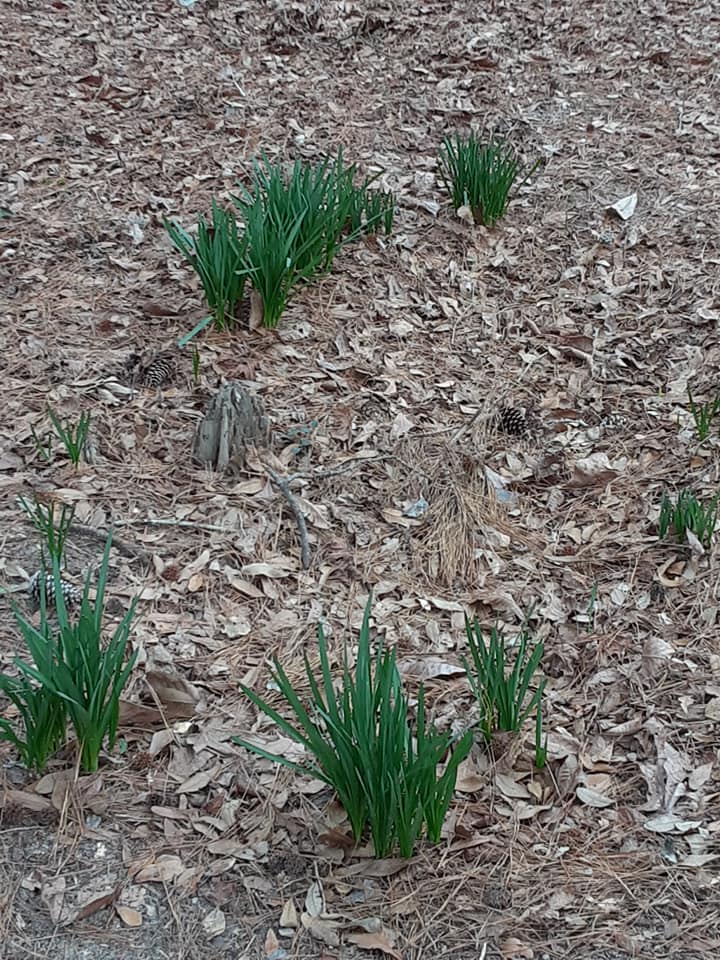 The lilies remember. Featured in book 2.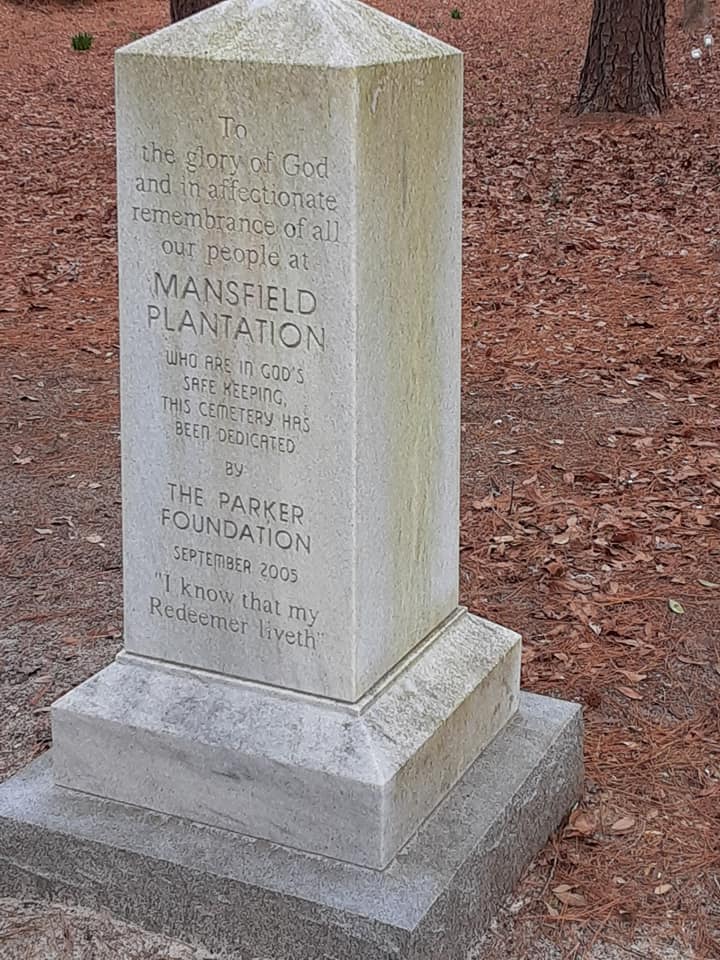 A plaque at Mansfield Plantation dedicated to "our people".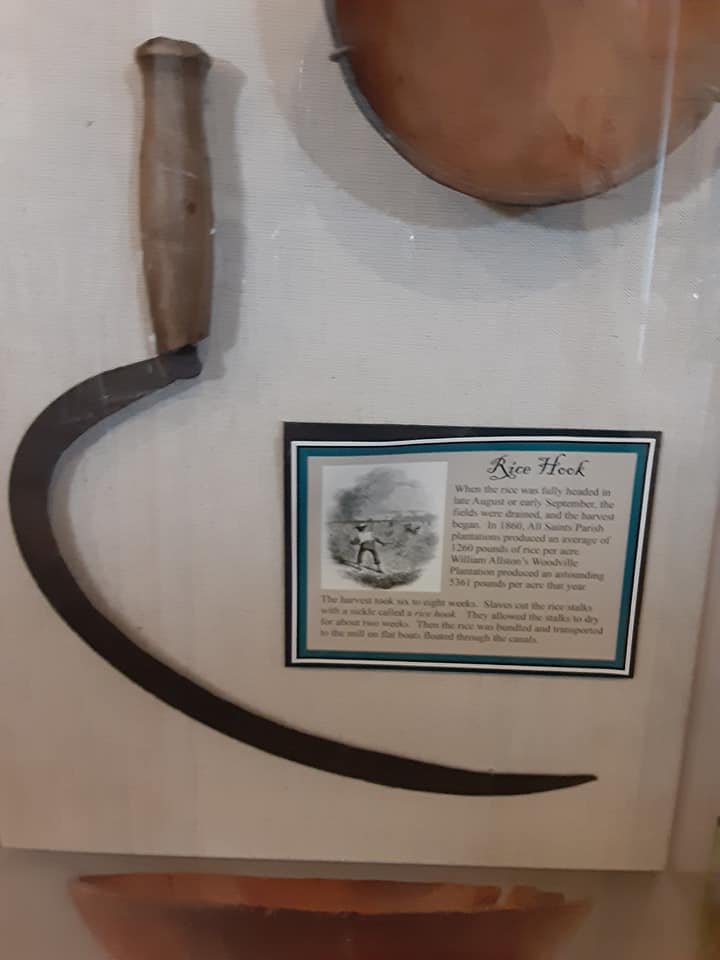 A rice hook. Enslaved workers used these to cut down rice stalks.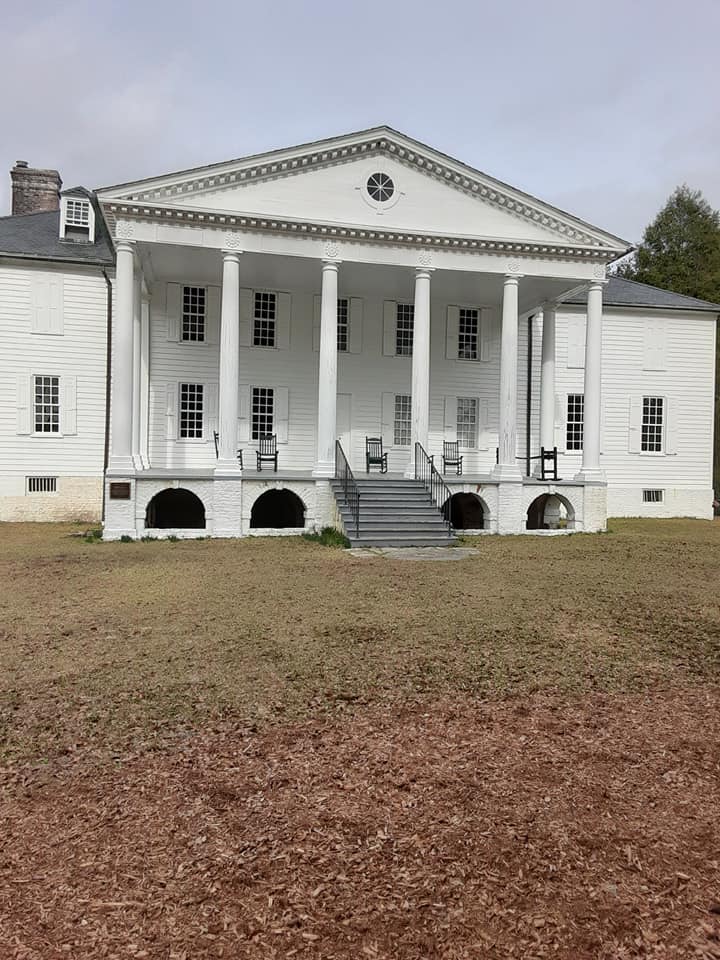 This is a typical "Big House" with the towering porch.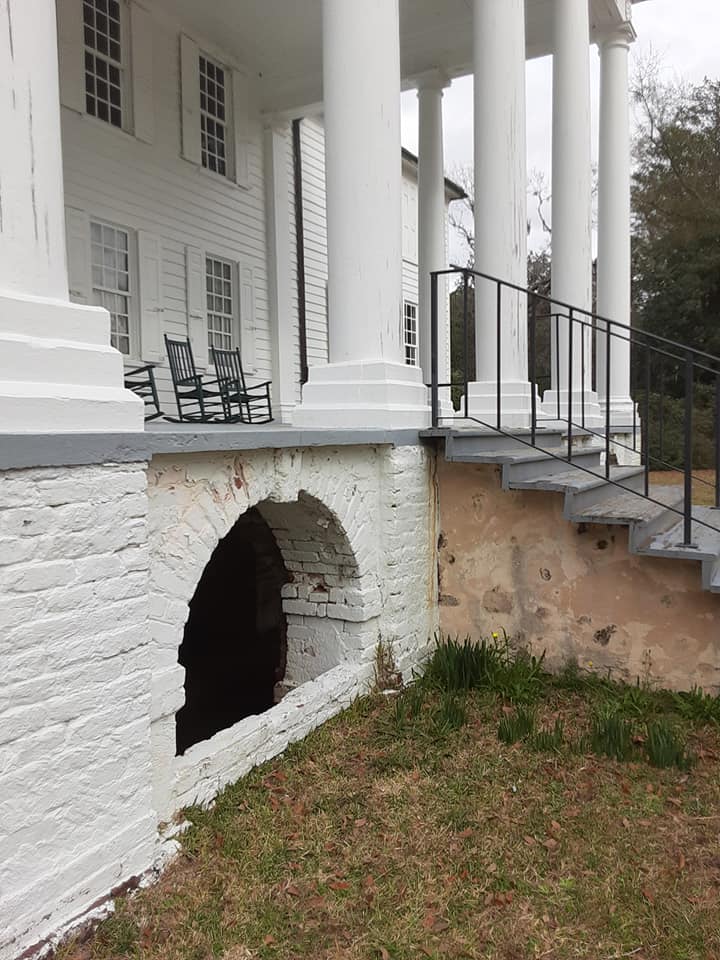 Those white columns are mentioned in book 1.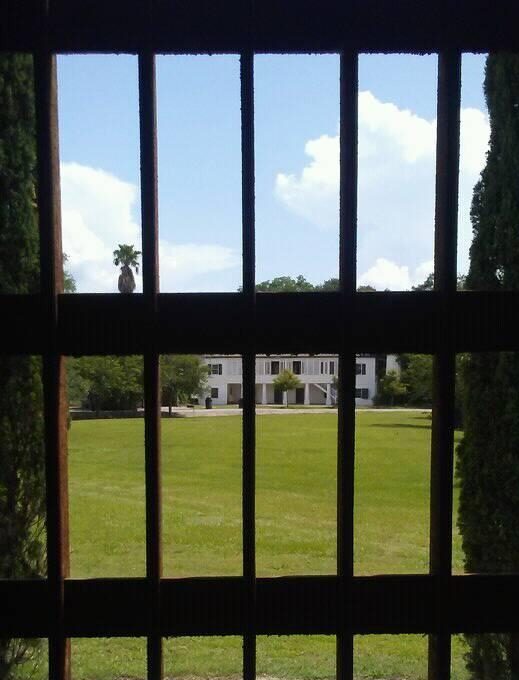 This is a slave pen located on the Whitney Plantation in Louisiana. Slave pens weren't located on plantations. This one was moved there. What a powerful image this makes with the Big House in view.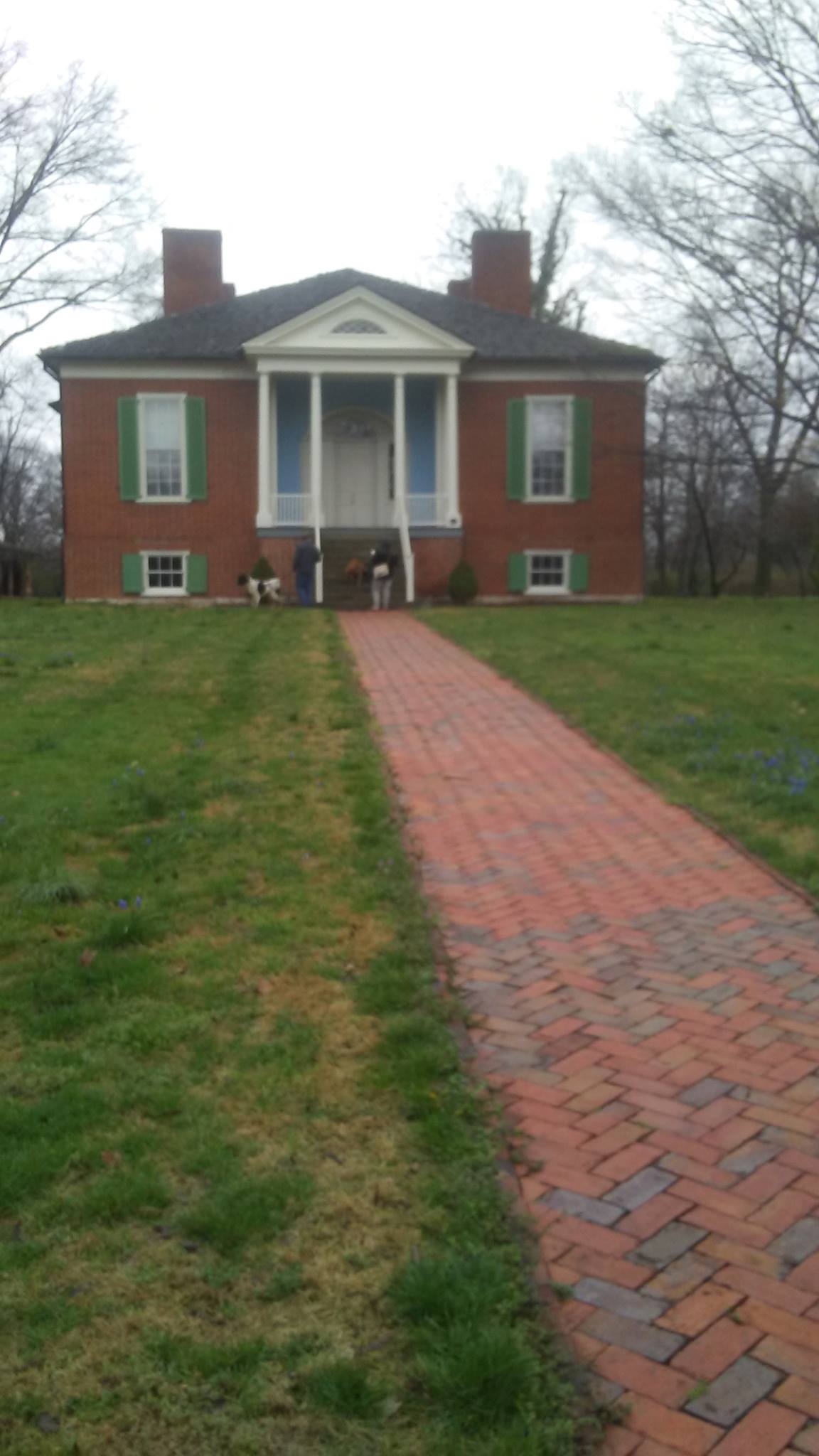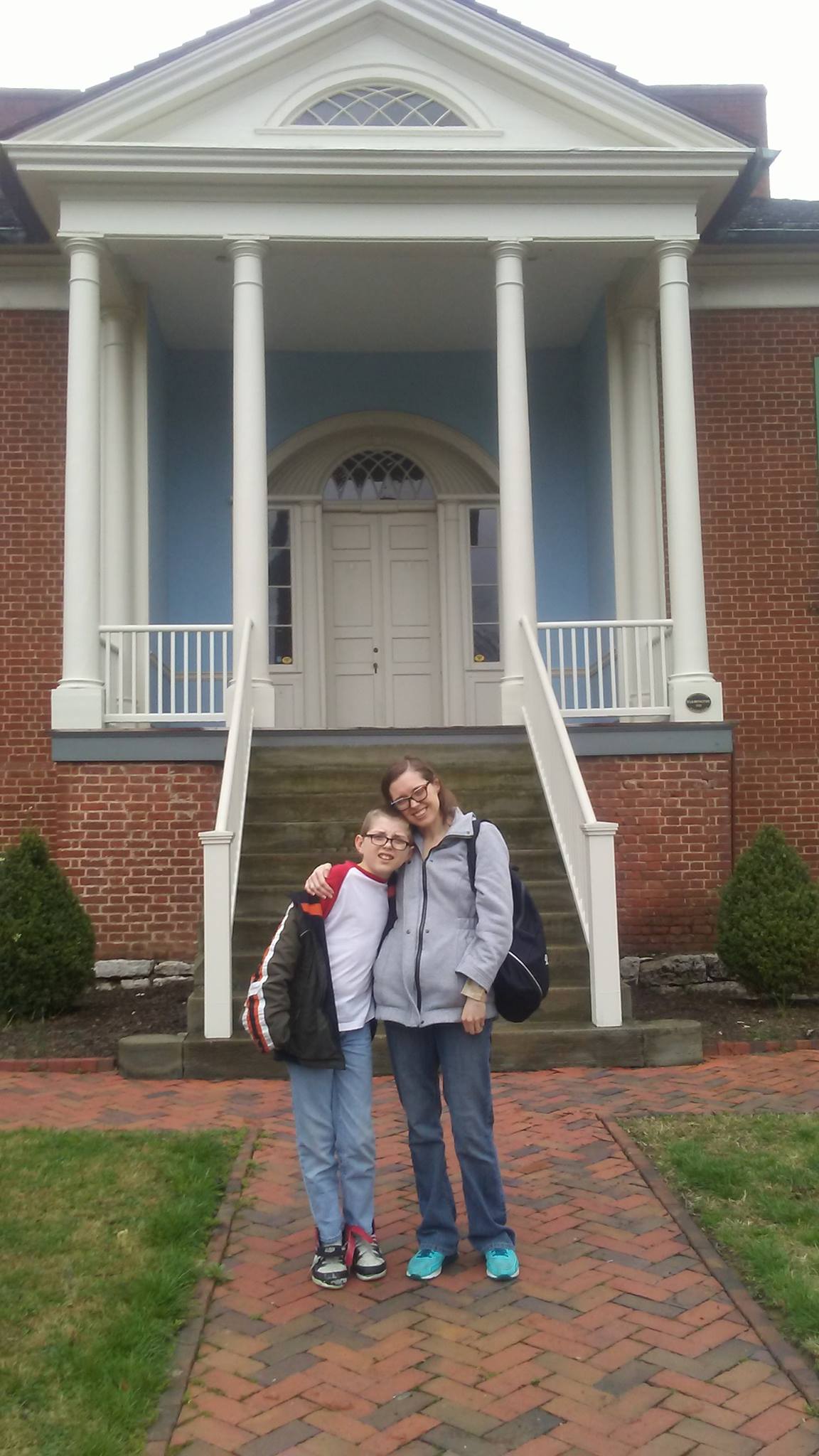 Book 1 – Mercy Will Follow Me– Chronicles Mercy's time in Tennessee and Kentucky. She is enslaved as a house servant at two different places in Kentucky. One of those was inspired by the Farmington Historic Plantation in Louisville, KY (left). The other by Hopemont  (also known as The Hunt-Morgan House) in Lexington, KY. The following interior pictures are of Hopemont.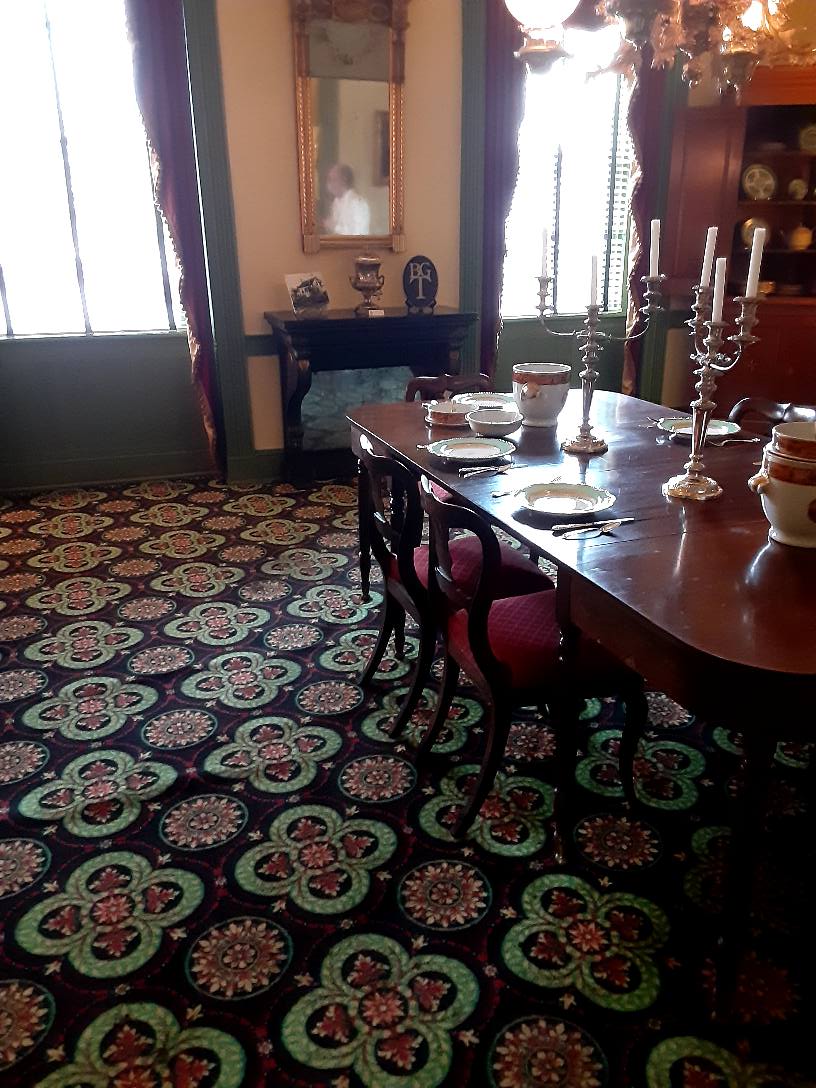 The oppuluence of the "Big House" is seen in elegant carpeting, upholstry, and china. It speaks to the owners' wealth.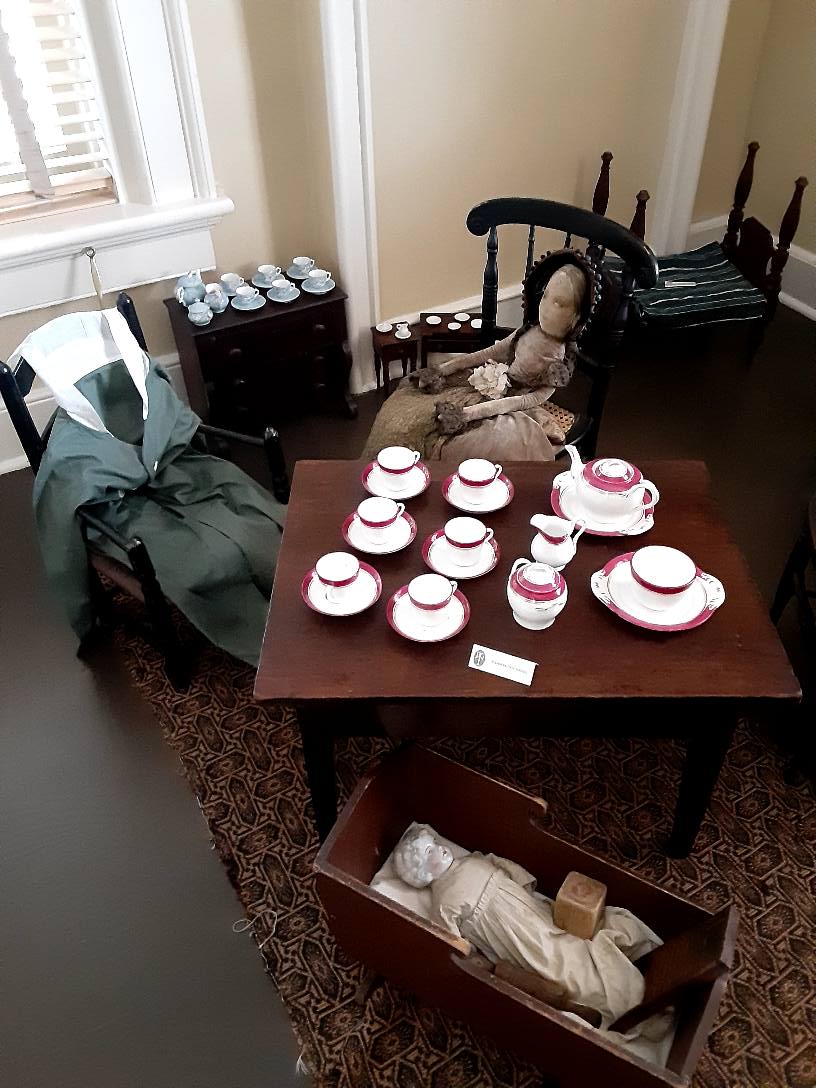 A child's room. Miss Mary would have played with toys like these.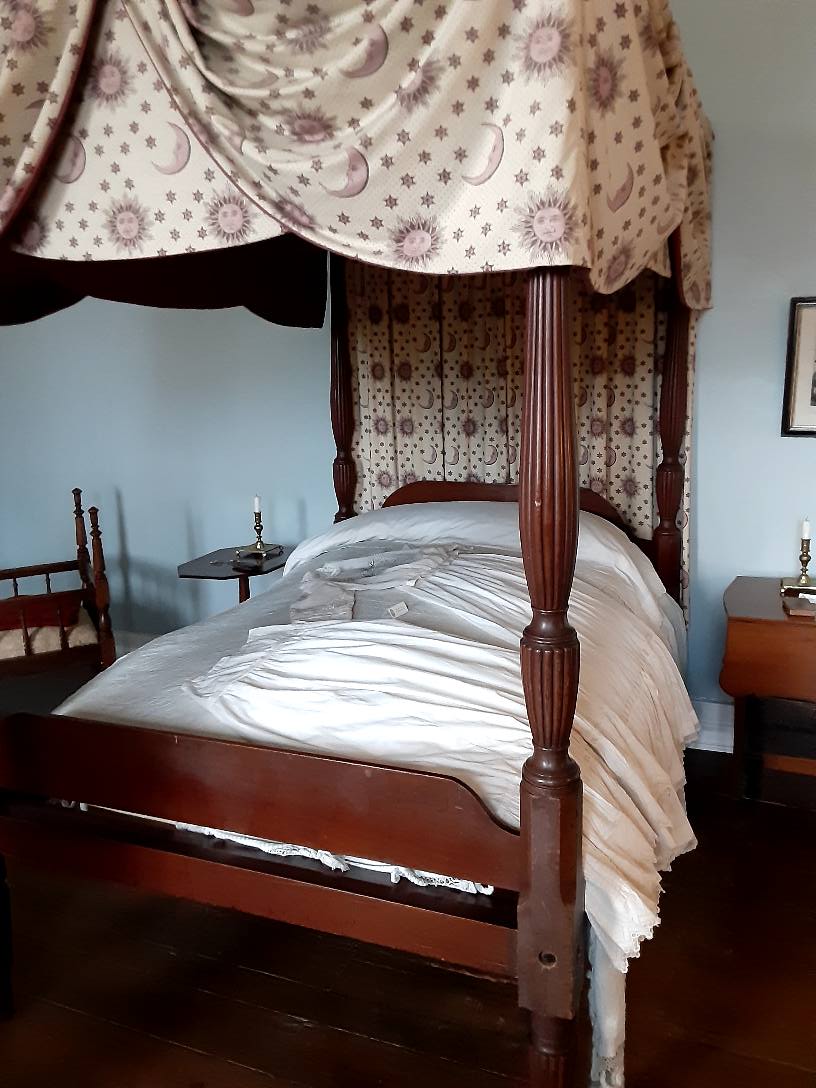 A typical bedroom. If an enslaved person was attending to a child, they would often sleep on the floor of their master's room.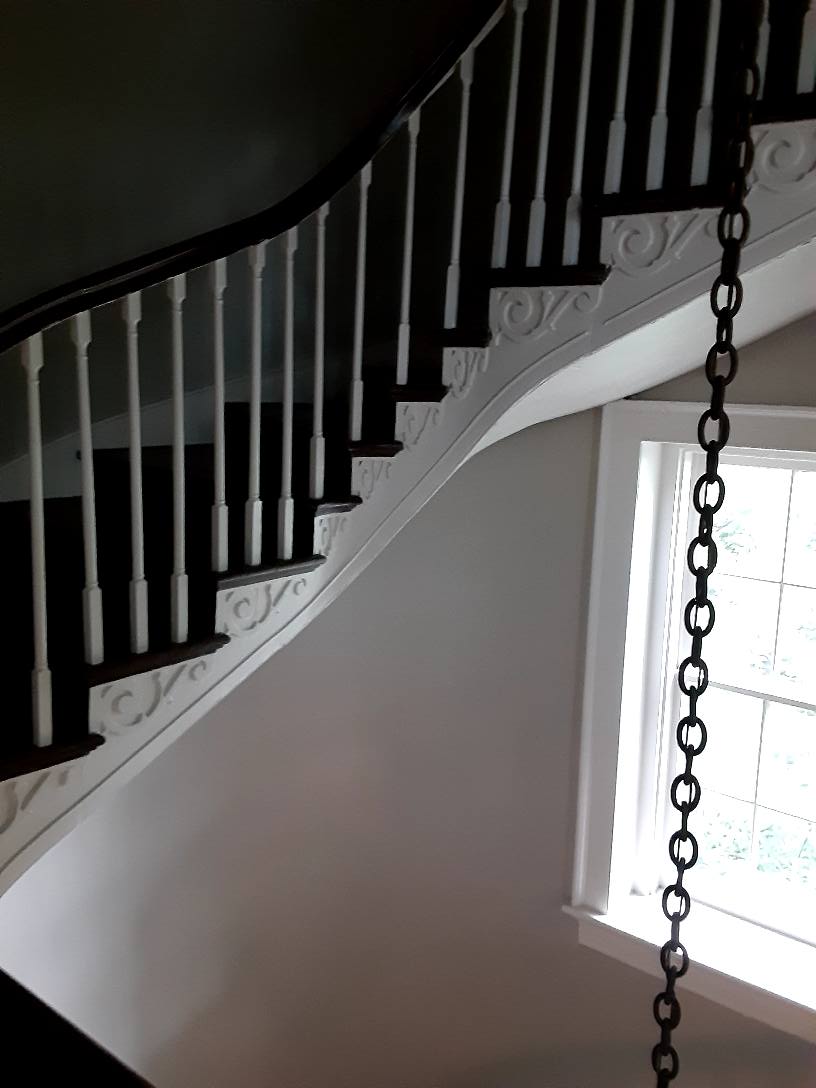 Instead of being located front and  center, this staircase is hidden away to the side and behind closed doors in order to keep the home cooler. It is featured in book 1.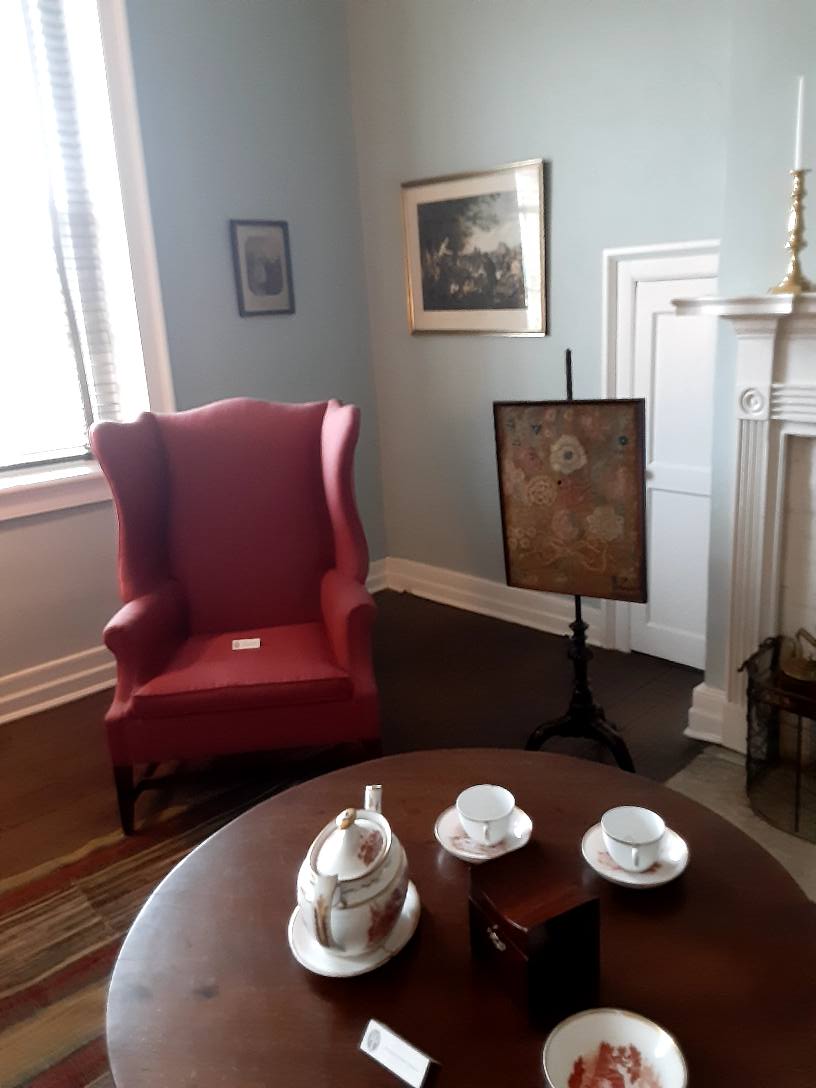 These shades were located by fireplaces to protect the person sitting there from the effects of fireplace heat, including the melting of make-up.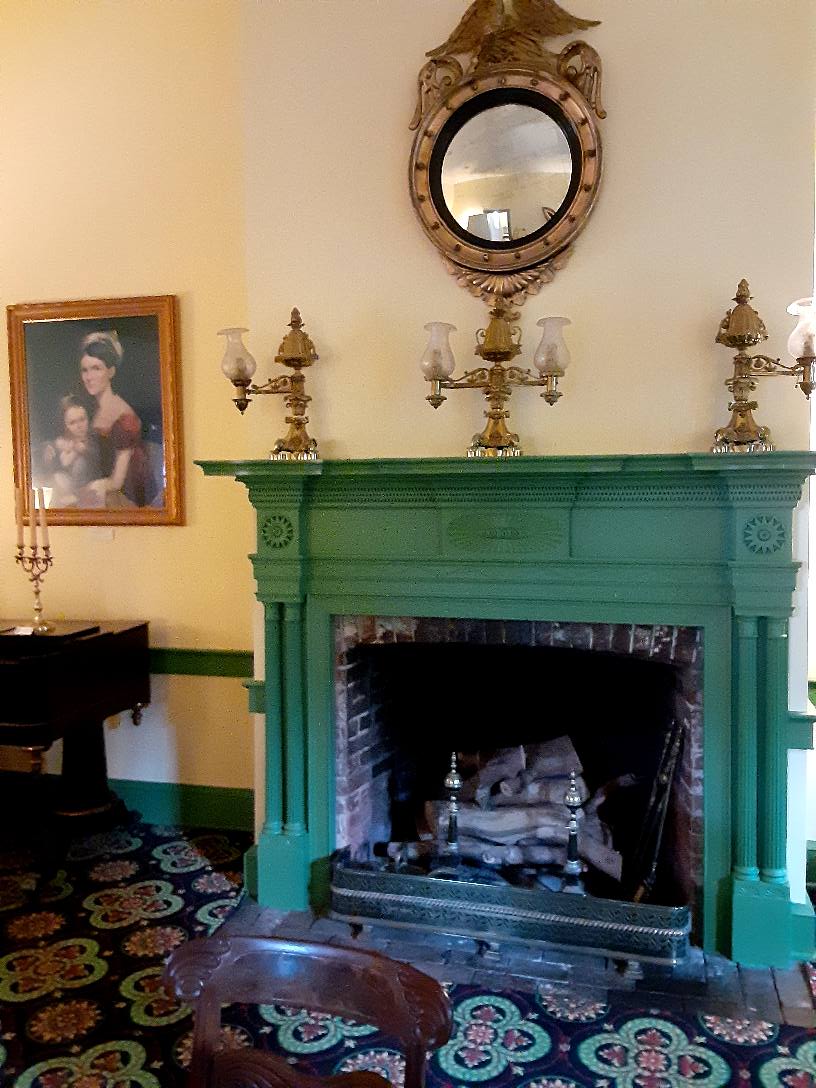 The owner really liked this shade of green.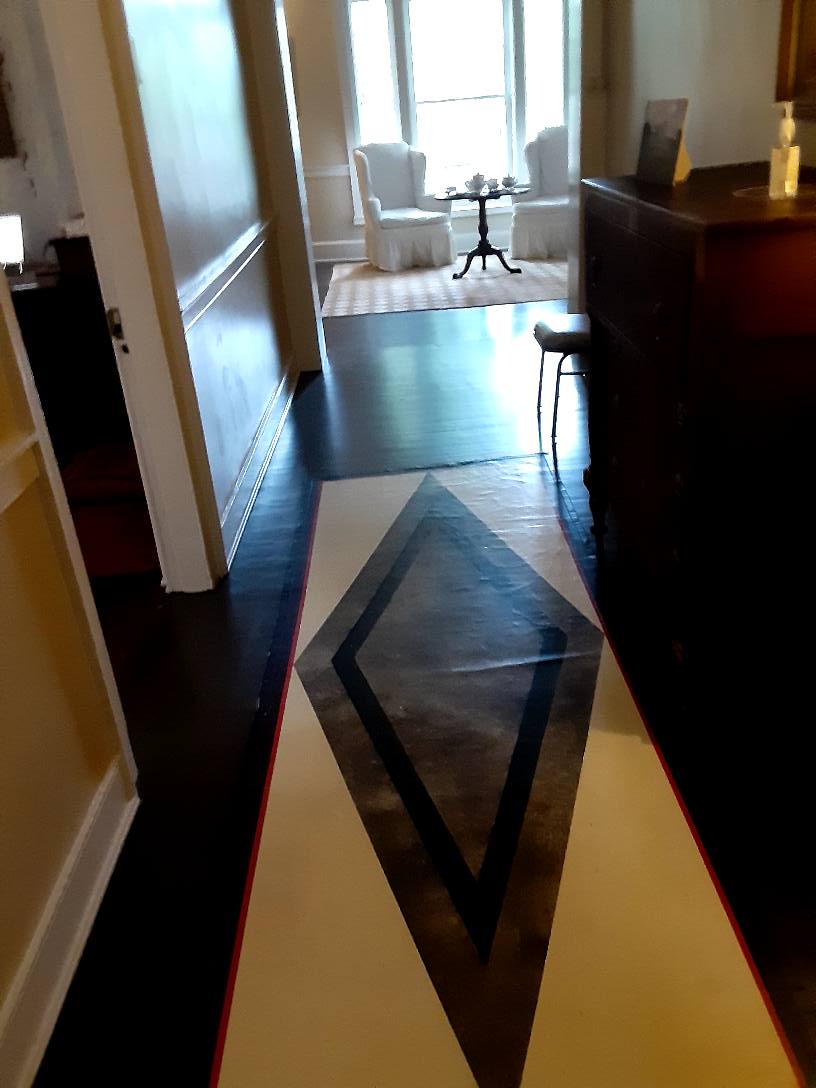 They often used oilcloth to protect their floors.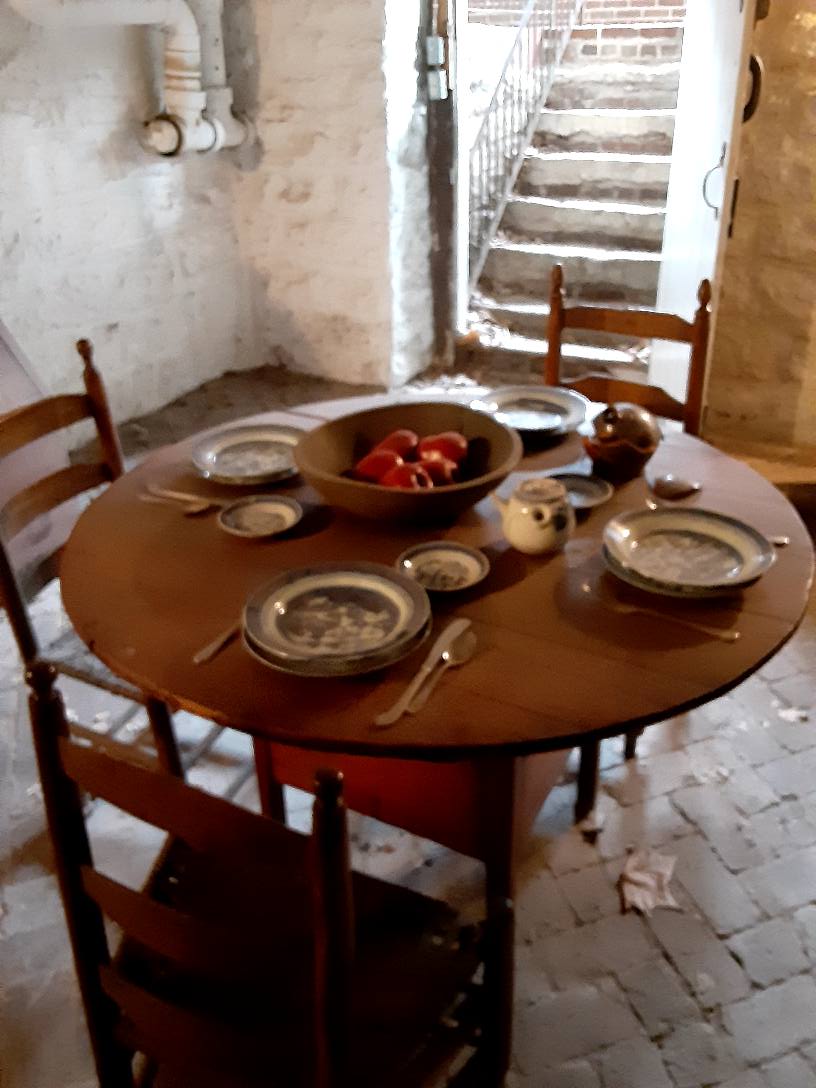 In the basement of the "Big House" of Hopemont were the slave quarters. Contrast the extravagance of the previous pictures with these ones. Enslaved people received cast offs from the owners.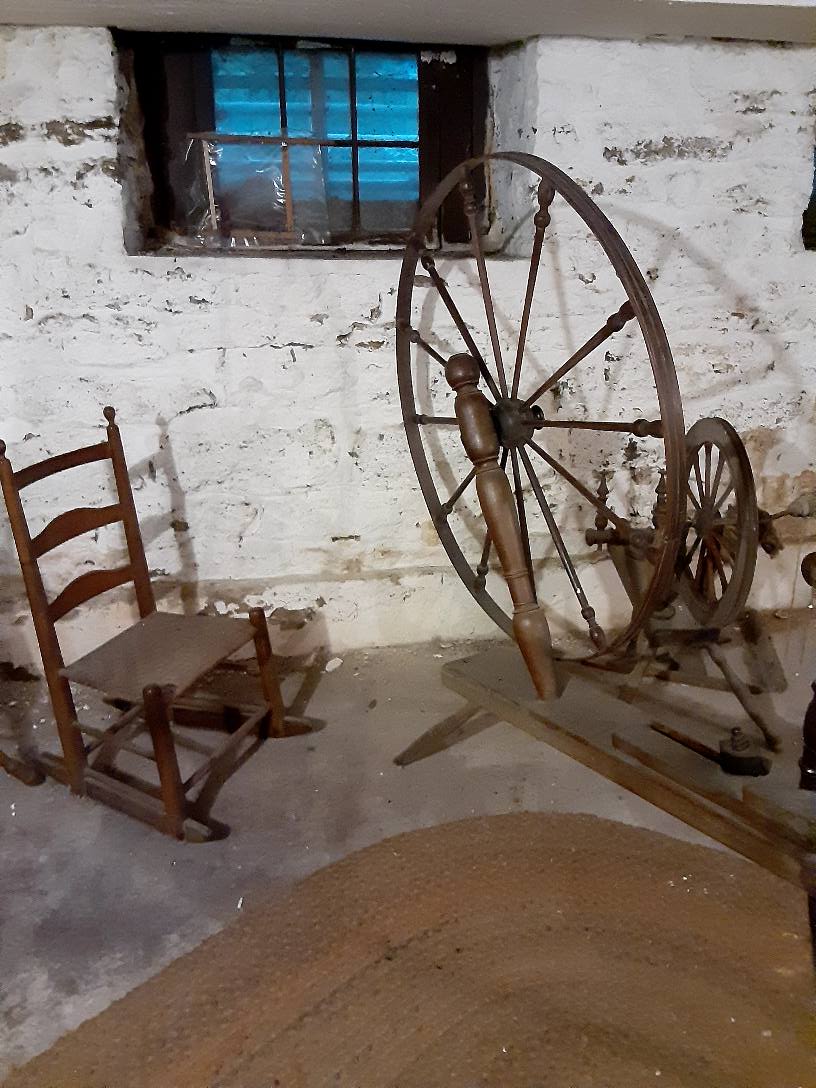 Contrast the lighting, carpeting, and furnishings with those above. My tour guide said that these enslaved people had it pretty good. This makes my stomach turn.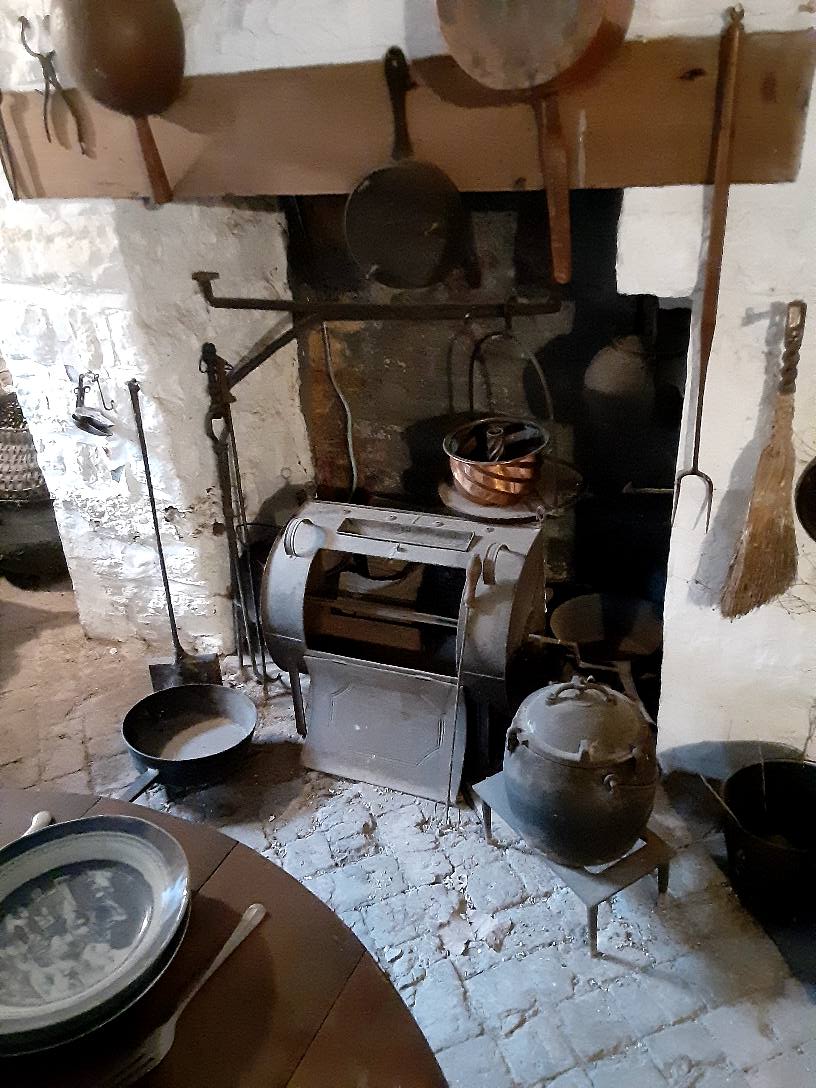 Not all homes had slave quarters in their basements. Some enslaved people stayed in attics, some slept on their master's floors, some had a separate residence close by. What is common is for kitchens to have been located in the basement if they were not detached (more common due to fire hazards.)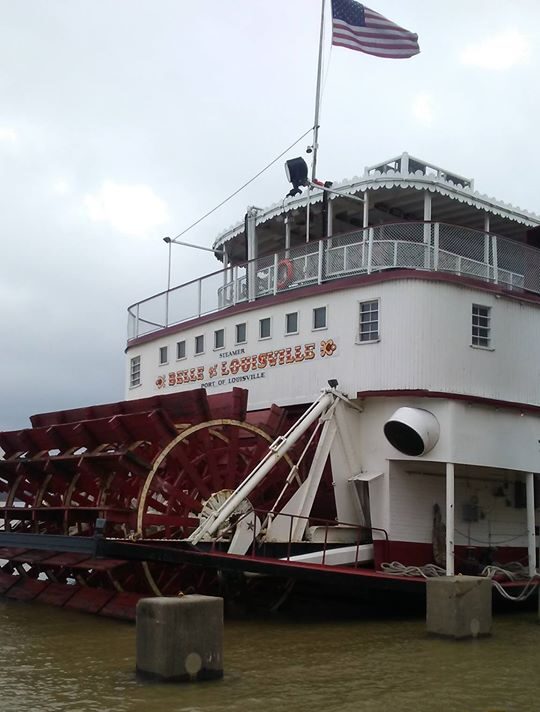 Both book 1 and book 3 feature steamboats. I did A LOT of research about steamers and we were excited to take a dinner tour on the Belle of Louisville in Kentucky to get a feel for what it might have been like for Mercy and Liberty.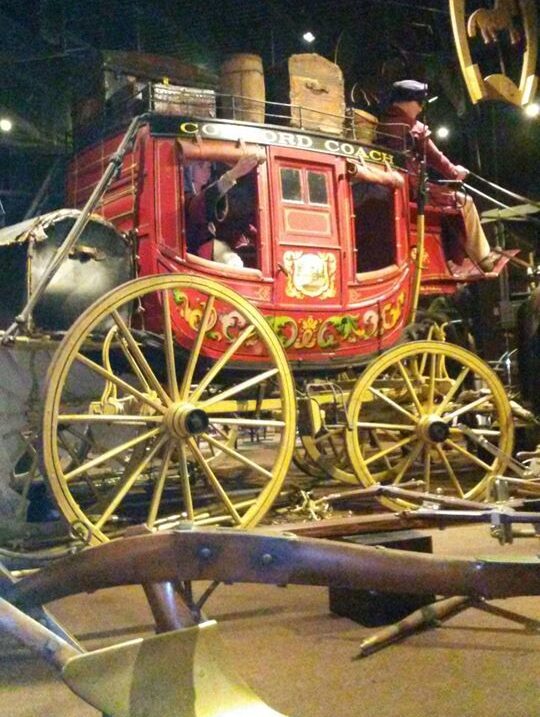 A stagecoach plays an important role in book 1. We found this replica at the International Museum of the Horse in Lexington, Kentucky.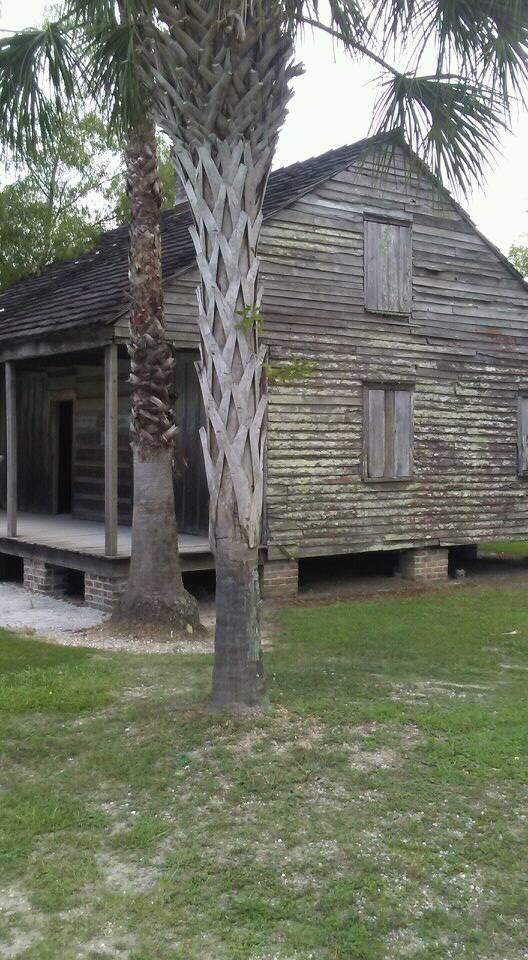 This slave cabin is located at The Whitney Plantation outside of New Orleans, Louisiana. Book 2 features a sugar plantation much like this one. I highly recommend visiting Whitney if you're ever in the area. It's dedicated to sharing the experience of the enslaved.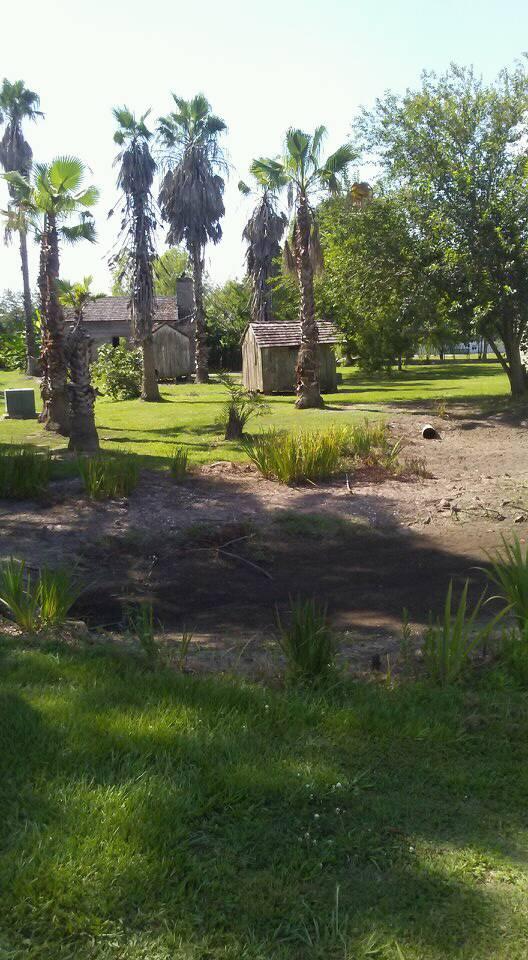 Different vegetation from South Carolina. Sugar is an entirely different crop than rice. What was it like for those enslaved who were sold from working one crop to work a very different crop?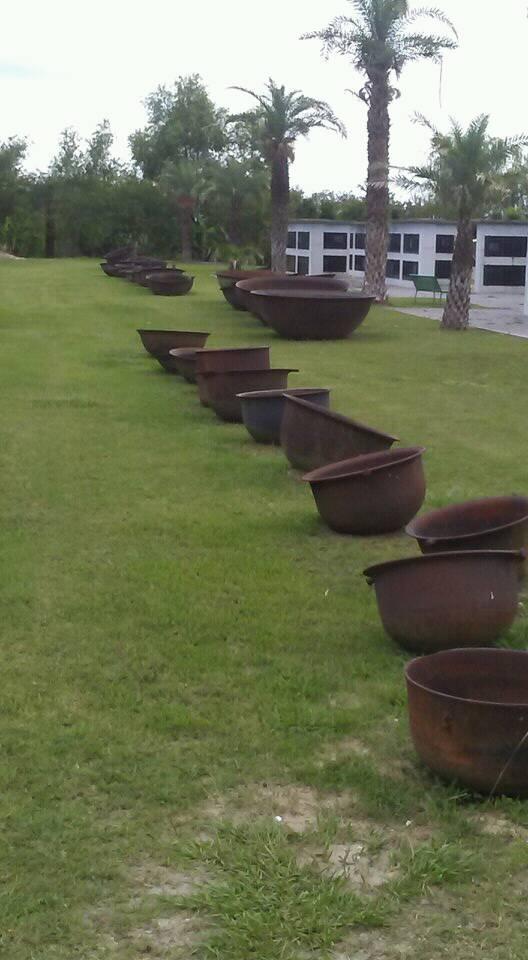 These are the kettles enslaved people used when processing sugar in the "Jamaican Train". They would boil down the sugar juice in a big kettle, then transfer it to smaller and smaller kettles as it reduced in volume until it was a thick syrup and sugar crystals formed. Burns were common in the process.